10 October 2013
Osram launches its first LED replacement headlamp
Lighting firm Osram GmbH of Munich, Germany is introducing its first fully functioning replacement LED headlamp. The new Ledriving Fog combined daytime running light/fog lamp uses LED technology to replace conventional halogen fog lamps in many car models. The number-one firm in the automotive light sector is also extending its retrofit spectrum to include the inexpensive Ledriving PX-4 daytime running light (which has a four-pixel LED) as well as colored retrofit lamps for vehicle interiors.
Ledriving Fog
The Ledriving Fog combined daytime running light/fog lamp with LED fiber optics is the first replacement headlamp from Osram for cars and trucks. With its rounded design and 90mm diameter, it can fully replace many conventional fog lamps with halogen technology without modifications to the car, says Osram. The new LED product not only upgrades the technical capability of the car but also provides drivers with an additional feature, since Ledriving Fog is also a daytime running light, says the firm. LEDs in OEM quality are used for both functions.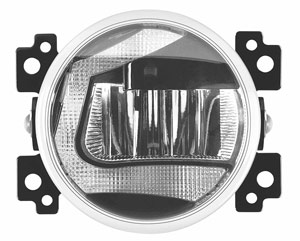 Picture: The Ledriving Fog, featuring a daytime running light and fog light in a single light construction.
The LED light guide for the DRL function ensures uniformly bright light and a dynamic appearance, ensuring better visibility, reckons Osram. Also, due to a wider LED beam angle, the fog light enables significantly better visibility even in poor weather conditions, and the product complies completely with ECE (Economic Commission for Europe) guidelines for both functions. As well as design and functionality, there is also an economic advantage, claims Osram, since Ledriving Fog consumes up to 70% less electrical energy than conventional fog lights.
Ledriving PX-4
Osram says that those wanting to economically give their vehicle a modern design while simultaneously improving safety in road traffic can accomplish this with the retrofit Ledriving PX-4 daytime running light, which has a dotted luminous surface, a slender design, and suits most vehicle models. Contrary to many low-price products, claims the firm, the DRL complies completely with standards of the Economic Commission for Europe (ECE) and can be fitted easily in about 60 minutes.
Retrofits for interiors
Since LEDs are also popular for accent lighting in vehicle interiors, Osram's new retrofit lamps fit into conventional incandescent lamp bases of types W5W, C5W and T4W. The 12V product spectrum (available until now in cool white and warm white) has been expanded with two colored W5W variants - blue and yellow LED lamps - creating accenting for boot, instrument and glove compartment lighting. Retrofits of types W5W and T4W in cool white or warm white are now also available for buses and trucks. Due to a special optic, the LED retrofit lamps feature homogeneous light, and emit this with a high level of energy efficiency, consuming up to 80% less power than conventional lamps, says Osram.
Tags: Osram LED headlamps
Visit: www.osram.com