18 October 2013
Ascent debuts EnerPlex Packr solar-integrated backpack
Ascent Solar Technologies Inc of Thornton, CO, USA, which makes lightweight, flexible copper indium gallium diselenide (CIGS) thin-film photovoltaic modules that it integrates into its EnerPlex series of consumer products, has launched its EnerPlex brand's first solar-integrated backpack.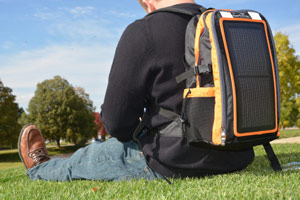 Picture: Ascent Solar's EnerPlex Packr.
The EnerPlex Packr backpack is integrated with a 3-watt regulated flexible solar panel and equipped with a standard USB output, made with Ascent's CIGS technology. The firm says that the lightweight solar module adds minimal weight to the Backpack while allowing it to maintain a traditional form factor. The 3-watt output allows users to power up smartphones and other small electronics on the go, without having to stop and deploy the panel.
"The Packr is the perfect example of how Ascent's transformational technology can be applied to products which consumers use in their everyday lives," says Ascent's VP of product development Robert Meck. The Packr provides a lightweight, useful and powerful charging solution, reducing the need for users to be chained to an outlet, he adds.
The Packr is available for purchase via EnerPlex's retail locations in the Denver area, as well as online.
Tags: Ascent Solar EnerPlex CIGS
Visit: http://enerplex.biz/shop/packr
Visit: www.AscentSolar.com