1 November 2013
Peregrine introduces UltraCMOS 10 technology to advance RF design with SOI
Peregrine Semiconductor Corp of San Diego, CA, USA, a fabless provider of radio-frequency integrated circuits (RFICs) based on silicon-on-sapphire (SOS), has announced the UltraCMOS 10 platform, the latest development of its UltraCMOS technology. The firm says that UltraCMOS 10 RF SOI (silicon-on-insulator) delivers both flexibility and performance for addressing the ever-increasing challenges of RF front-end design. It offers the performance of UltraCMOS technology with the economies of SOI, and it delivers a more than 50% performance improvement over comparable solutions, it is reckoned.
Peregrine's new 130nm UltraCMOS 10 technology delivers the support needed for the latest generation of LTE-Advanced smartphones and, for the first time, will allow it to deliver cost-competitive products for 3G smartphones.
Peregrine is enhancing a long-term relationship and leveraging a new one for the introduction of UltraCMOS 10 – the SOI semiconductor materials of Soitec of Bernin, France coupled with the custom fabrication flow of tier-one fab GLOBALFOUNDRIES Inc of Milpitas, CA, USA.
"Together, we co-developed a custom flow to help make Peregrine's new UltraCMOS 10 generation a truly cutting-edge advance in RF SOI," says GLOBALFOUNDRIES' CEO Ajit Manocha.
Smartphone makers face tough design challenges, says Peregrine, including balancing performance requirements with cost and maintaining consumers' signal quality and data-rate speeds despite the increasing number of frequency bands and volume of data. "The iPhone 5S has more than double the frequency bands than the iPhone 5, and this is just one example of how dramatically the requirements for smartphone components are increasing," comments Joe Madden, principal analyst of Radio Access and RF Semiconductors at Mobile Experts. LTE units are expected to grow at a compound annual growth rate (CAGR) of 42% from 150 million in 2012 to 1.2 billion in 2018. "Peregrine's UltraCMOS 10 technology will outpace these increasing performance needs so consumers will continue to see improved connectivity," he adds.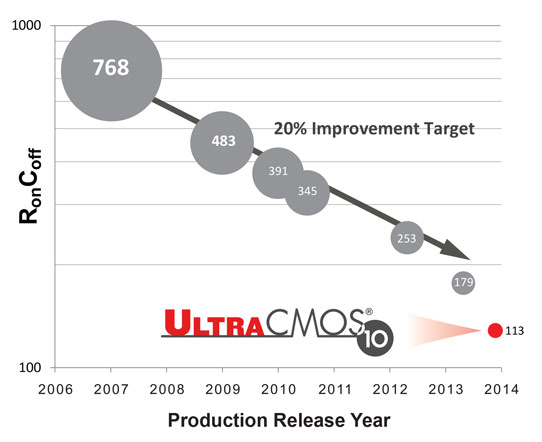 Graphic: UltraCMOS 10 technology platform's RonCoff performance metric of 113fs, a five-fold improvement over the first generation released ten years ago.
The UltraCMOS 10 130nm generation delivers what is claimed to be the industry's best RON COFF performance and enables improved performance and scaling. The RON COFF figure of merit is a ratio of how much loss occurs when a radio signal goes through a switch in its ON state (RON, on-resistance) and how much the radio signal leaks through the capacitor in its OFF state (COFF, off capacitance). RON COFF for UltraCMOS 10 technology is 113fs, a five-fold improvement over the first generation released by Peregrine 10 years ago (i.e. lowering insertion loss without sacrificing isolation performance). The UltraCMOS 10 platform also leverages Peregrine's patented design technology, which delivers linearity of more than 75dBm at 900MHz and equates to higher data rates and improved co-existence for consumers.
Tags: Peregrine SOS CMOS SOI RF switches
Visit: www.psemi.com