19 November 2013
Osram Ostar Medical LED provides tunable white light with CRI of 95
Osram Opto Semiconductors GmbH of Regensburg, Germany claims that its new Osram Ostar Medical is the first LED component with a high color-rendering index (CRI) of 95 and the capability of adjusting the temperature of the color white. This makes it suitable for medical applications such as operating rooms, where a precisely controlled chromaticity coordinate and high natural color rendering are crucial.
The Osram Ostar Medical consists of four different LED chips in the colors warm white, ultra white, green and amber, allowing users to set the shade of white emitted by the LED according to their individual requirements within a color temperature range of 3700-5000K. This combination of precise chromaticity coordinate control and high CRI is particularly important for lighting in the medical sector, says the firm. When optimized for the red spectrum (Ra9), the CRI remains at around 95 so that red shades are particularly true-to-life – suiting lighting systems in operating rooms.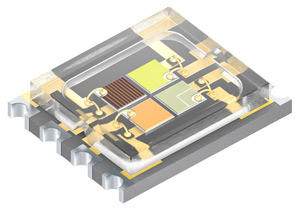 Picture: Compact design of the Osram Ostar Medical LED.
With a footprint of just 5.9mm x 4.8mm (about 0.23 inches x 0.19 inches) and a housing height of only 1.2mm (about 0.5 inches), the compact Osram Ostar Medical is only about one-quarter the height of the components that are ordinarily used. The new LED owes its compact design to the flat, antireflection-coated glass cover with which the LED is equipped instead of the usual lens.
"Compact luminaires prevail in the modern medical lighting sector, and the low height of the new Osram Ostar Medical makes it the ideal lighting solution," reckons Michael Godwin, director of Visible LED Products at Osram Opto. "The component is standardized, which means that customers can use the commonly available lenses." As with other members of the Osram Ostar LED family, the Osram Ostar Medical is simple to install with standard soldering processes.
Visit: www.osram-os.com