5 November 2013
LED backlighting to reach 90% penetration in LCD TVs in 2013
With LED backlighting technology approaching saturation point in the liquid-crystal display (LCD) television panel market this year, suppliers of light-emitting diodes are turning their attention to the new growth opportunity in the fast-expanding lighting segment, according to the report 'Q3 2013 GaN LED Supply and Demand' from IHS Inc.
The proportion of LCD TV panels that use LEDs for backlighting is set to reach 90% in 2013, forecasts the market research firm. Of a total of 231 million LCD TV panels forecast to be shipped, 207 million will use LED backlighting, with the remainder using the older cold-cathode fluorescent lamp technology.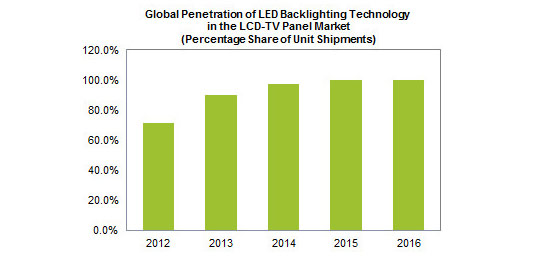 This marks the end of a boom time that started in 2009, when LED penetration of the LCD TV panel market was just 3%, before climbing rapidly to 24% in 2010, 38% in 2011 and 71% in 2012. By 2016, LED penetration will rise to 100% of the LCD TV panel market.
In 2013, Japan's Sharp Corp is the only panel supplier that uses LED backlighting in 100% of its LCD TV panels. South Korea's Samsung and LG are not far behind, with the two firms set to reach more than 95% LED usage in their LCD TV panels by the end of this year.
Because there is little growth opportunity left in the LCD TV backlighting market, LED makers are redirecting their efforts to the lighting business. "LED suppliers that are focused on lighting are predicted to gain market share," says Jamie Fox, principal analyst for LEDs at IHS. "Some of the companies that have a large market share in LED backlighting, such as Seoul Semiconductor and Samsung, have already managed to shift much of their business to lighting and have done very well in this area, winning market share in recent years."
In lighting applications, the penetration of LED products compared to alternative technologies is currently very low. Only 2.8% of all lamps shipped in 2013 are forecast to use LED technology. This amounts to 520 million LED lamps versus 18.6 billion lamps in total. However, demand for LED lighting is predicted to increase rapidly during the next five years, driving projected packaged LED revenue growth of $2.5bn within the period.
"Because the replacement rates for LED lamps are much longer than those made from competing technologies, annual demand is predicted to slow as the installed base grows for LED lamps," Fox says. "Suppliers to the LED lighting market therefore need to position themselves accordingly in order to capitalize."
Japan has the largest adoption of LED lamps in 2013. Meanwhile, the highest penetration in terms of sector breakdown can be found in retail and hospitality, at about 6% LED. This compares to about 1% for the residential market.
Apart from LCD TVs, LEDs are also reaching high penetration in other backlighting applications, even if growth opportunities are slackening.
For example, while notebook, tablet and cellphone backlights are already 100% LED-backlit, desktop PC monitors this year are set to hit 86% LED penetration, similar to LCD TV panels. By the end of 2015, monitors are predicted to join the applications in reaching 100% LED usage.
However, the combined market for LED backlighting in all these applications has already gone into decline - even before 100% penetration has been reached. This is driven by a number of factors. One is the reduction in the number of LEDs needed per panel. Another reason why shipments are slowing is the increasing usage of organic light-emitting diode (OLED) displays, which do not require LED backlighting.
Meanwhile, prices are declining for LEDs, impacting revenue growth in backlighting applications, concludes IHS.
Tags: LED market
Visit: www.imsresearch.com/report/