23 May 2013
TriQuint accelerates GaN offerings, releasing new products, processes and foundry services
RF front-end component maker and foundry services provider TriQuint Semiconductor Inc of Hillsboro, OR, USA has announced 15 new gallium nitride (GaN) amplifiers and transistors along with two new GaN processes – to be displayed in booth 530 at the 2013 IEEE MTT-S International Microwave Symposium (IMS) in Seattle, WA, USA (4-6 June). The firm says that the new products offer performance, size and durability advantages for communications, radar and defense RF systems.
James L. Klein, VP & general manager for Infrastructure and Defense Products, remarks that, due to TriQuint's expansion of process and product solutions, GaN's performance advantages are now more accessible to RF manufacturers. "This announcement shows the accelerated pace of TriQuint innovation. Customers have access to more world-class products in addition to three GaN processes supported by packaging, assembly and test services," he adds. "TriQuint is comprehensively addressing the most demanding RF requirements with the flexibility to engage customers of all sizes."  Market research firm Strategy Analytics foresees significant GaN growth. "While defense remains the largest GaN revenue source, infrastructure is growing fast. Sat-Com, power and CATV are ramping to higher revenues," notes Eric Higham, director of Semiconductor Practice. "Strategy Analytics forecasts that the market for GaN microelectronic devices will grow with a CAAGR [compounded average annual growth rate] of over 34% to approximately $186m by 2015."
TriQuint's original quarter-micron process is now complemented by a high-voltage variant, TQGaN25HV. The new process extends the drain operating voltage of 0.25-micron GaN to 48V while delivering higher breakdown voltage, greater power density and high gain for DC-10GHz applications. This enables more rugged devices that can withstand VSWR (voltage standing wave ratio) mismatches that might destroy other circuits while delivering more RF output power. A new product designed with this process is T1G4012036-FS/FL, a 120W packaged transistor for radar and infrastructure that is nearly two-thirds smaller than similar LDMOS devices. Additional products built using TQGaN25HV are now available.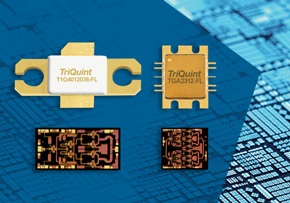 TriQuint's new T1G4012036-FL 120W discrete packaged RF power transistor and TGA2312-FL X-band power amplifier. 
The firm's third GaN process, TQGaN15, pushes the frequency range of GaN to 40GHz while delivering high power density and low-noise performance. The 0.15-micron gallium nitride on silicon carbide (GaN-on-SiC) process was used to create the new TGA2594 (4W) and TGA2595 (10W) Ka-band VSAT ground terminal amplifiers, which have power-added efficiency (PAE) up to 35% and are three times smaller than comparable gallium arsenide (GaAs) solutions. Additional products built using TQGaN15 are now available.
TriQuint's product portfolio of new GaN solutions also includes the TAT9988 direct-to-board MMIC amplifier for CATV and fiber-to-the-home (FTTH) optic networks, created using the second-generation of TriQuint's original TQGaN25 process. It is claimed that the TAT9988 leads the industry in gain, composite distortion performance and surface-mount convenience.
TriQuint's expanded GaN range is complemented by its integrated assembly services, which include die-level device packaging, x-ray and testing. TriQuint is also a US Department of Defense (DoD)-accredited 'Trusted Source' for GaN and GaAs, which includes post-processing test & packaging services.
At IMS 2013, TriQuint will detail advances of its GaN product and process solutions in booth 530 on 4 and 5 June (at 11am and 1pm each day).
Tags: TriQuint
Visit: www.triquint.com
Visit: http://ims2012.org