24 May 2013
Panasonic develops 10,000lm white light source using single near-UV semiconductor laser and new phosphors
Osaka-based Panasonic Corp has developed a semiconductor white light source capable of outputting luminous flux in the 10,000-lumen class. The new technology will enable wider variation in design, higher brightness and a smaller form factor in applications such as data projectors and vehicle headlights, reckons the firm.
Conventional laser white light sources require multiple visible-light semiconductor lasers that emit blue and other colors, creating a tradeoff between small form factor and high brightness. Although some laser wavelengths are projected directly, without passing through phosphor material, conventional phosphors are not suitable for use as high-intensity light sources, as they are subject to significant luminance saturation (where optical power can decline as incident radiation intensity rises) when laser light is focused on them.
In the newly developed technology, increased light output was achieved due to the high-efficiency, low-loss design and modularization of the near-ultraviolet semiconductor laser that is used in the light source. A high luminous flux of white light was realized through the development of a phosphor material that is not subject to luminance saturation even when irradiated with high-intensity laser light. The use of a laser with a smaller light-emitting area and superior light emission directionality to LEDs has allowed a compact optical configuration with higher brightness and a smaller form factor.
The development is based on the following new technologies:
a high-output, low-loss laser design with a wider near-UV laser optical waveguide and optimized light loss control;
phosphor material technology that uses the high-density crystalline structure of SMS (Sr

3

MgSi

2

O

8

) phosphor to control the density of the luminescent center and thus prevent luminous saturation; and
wavelength conversion technology that uses a rotating phosphor wheel that absorbs near-UV laser light and converts it to red, green and blue luminescent light.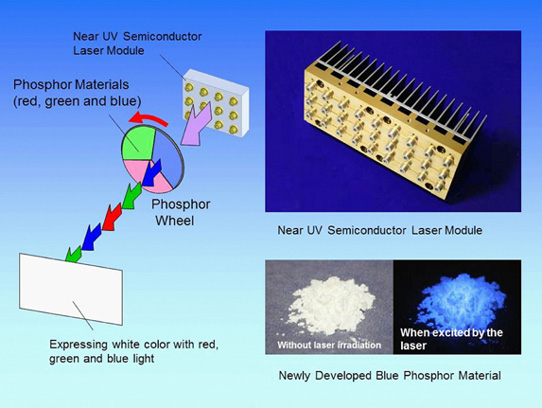 Picture: Conceptual diagram of the new white-light source.
The newly developed technology therefore has the following features:
By increasing the output of the near-UV laser in the light source to ten times that of Panasonic's conventional lasers, what is claimed to be the industry's highest light output power of 60W (for a near-UV laser) has been achieved. The miniaturized laser module (containing multiple lasers) can hence be incorporated into a wider range of equipment.
The use of a newly developed phosphor material has increased blue light emission by 40% (when irradiated with 60W near-UV light), contributing to the realization of a 10,000lm-class high-luminous flux white light source through red, green and blue phosphors.
The generation of red, green and blue light from just one type of laser light (using a rotating phosphor wheel) simplifies the optical system and ensures that the laser is projected directly onto the screen.
Panasonic presented the new technology at the 2013 SID International Symposium in Vancouver, Canada (21-24 May), where it received the Distinguished Paper Award from the Society for Information Display. Panasonic reckons that the new technology opens the way to greater use of semiconductor light sources in the projection/lighting market. The firm says that it holds 39 patents in Japan and 22 overseas patents (including pending applications) for the new development.
Tags: Panasonic UV laser Projectors
Visit: http://panasonic.net