20 May 2013
German research project focuses on intelligent LED headlamps
Adaptive forward lighting (i.e. glare-free camera-controlled headlamps that react instantly to changing conditions at night) is to help keep drivers and their passengers safer, as a consortium of high-tech automotive firms design and build additional intelligent functions. The key to this complex functionality is the integration of microelectronics and optoelectronics – one of the principal aspects of a research project sponsored by the German Federal Ministry of Education and Research (FMER). As a major provider of LED lighting for the automotive sector, Osram Opto Semiconductors GmbH of Regensburg, Germany is contributing its expertise as the project coordinator.
As part of the FMER's 'Integrated microphotonics' initiative, the aim of the joint project is to develop the technical framework for a new class of energy-efficient LED headlamps with supplementary traffic safety functions. This can provide the basis for adaptive forward lighting systems (AFS) that offer drivers and passengers increased safety with functions such as glare-free high-beams and low-beams that adapt to the speed of the vehicle. At high speed, the range of the light will be automatically increased. However, in city traffic a wider distribution of the light can improve road safety by illuminating more of the sidewalk and other peripheral elements such as pedestrians and cyclists. These functions are fully electronic, so there is no need for mechanical actuators.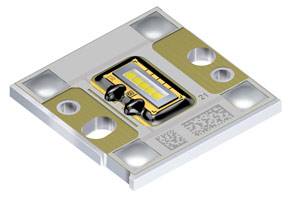 Picture: Osram's Ostar Headlamp multi-chip LED.
Osram Opto Semiconductors has expertise in chip and converter technologies, and the Specialty Lighting division of its parent firm, the light manufacturer Osram GmbH of Munich, Germany, will develop new electronic control gear for controlling the LED headlamp system. The Fraunhofer Institute for Reliability and Microintegration (IZM) is contributing its expertise in interconnection technology and materials, and Infineon Technologies is offering its experience in automotive electronics and LED drivers. The automotive industry supplier and lighting specialist HELLA will develop the entire optical system for the LED module and the headlamps, and will build prototypes. Automotive manufacturer Daimler will carry out the vehicle tests.
"We have brought together major players in their respective sectors and have assembled a wealth of expertise for this pioneering project," says project coordinator Stefan Grötsch, responsible for LED applications in automotive lighting at Osram Opto Semiconductors. "Together, these experts will make safer driving applications a priority for automakers worldwide."
Tags: Osram LED headlamps
Visit: www.osram-os.com