23 May 2013
Oxford Instruments' seminars in China and Taiwan attract record attendance
UK-based etch, deposition and growth system maker Oxford Instruments Plasma Technology (OIPT), part of Oxford Instruments plc, has completed its series of Asian seminars in Beijing, China and Hsinchu, Taiwan, attracting a record total attendance of over 250 people.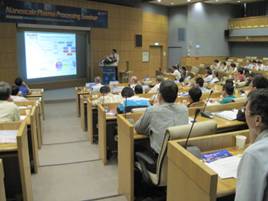 Picture: OIPT seminar.
The Beijing seminar was co-hosted by the Institute of Semiconductors, Chinese Academy of Sciences (IOS-CAS) one of the most important bases for the research and development of semiconductor science and technology in China, whilst its counterpart in Taiwan was co-hosted by ITRI, a non-profit R&D organisation with over 5,800 employees.
Both seminars featured a range of International and national speakers including Prof. Yang Fuhua from IOS-CAS in China and Prof. Chyi, Jen-Inn, executive vice president, National Applied Research Laboratories in Taiwan; with the talks covering a number of key areas, including GaN on Si power device development; SiC wide bandgap semiconductors for power electronics applications; and MEMS devices, processes and trends.
Dr. Shao-Chung Hsu, executive director of ITRI South Campus gave a welcome address at ITRI, and said, "Oxford Instruments has an excellent cleanroom facility established here at ITRI so it is fitting for us to host an event covering the wide range of applications that the Oxford Instruments systems can offer including MEMS, HBLED, ALD and III-V. Talks about the recent progress in their research and development and future trends in the fabrication and applications in micro and nano structures, gave the audience from academia and industry much opportunity for discussion. We hope to hold more events like this with Oxford Instruments at ITRI."
Frazer Anderson, Business Group director at Oxford Instruments Plasma Technology, said, "These technical seminars in China and Taiwan gave us and our audiences a great opportunity to spend time being updated by a wide range of eminent speakers, in a relaxed atmosphere where we can share experiences and learn more from our peers. As a company our ethos is to use innovation to turn smart science into world class products, and by working closely with partners at the top of their field and learning about their evolving requirements, their research and technological developments, we hope to achieve this."
Tags: OIPT
Visit: www.oxford-instruments.com