27 May 2013
Oclaro's quarterly revenue falls 11%
For fiscal third-quarter 2013 (to end-March), optical component, module and subsystem maker Oclaro of San Jose, CA, USA, has reported revenue of $141.6m, down 11% on $159.5m the previous quarter and up 60% on $88.7m a year ago (which was prior to closing the merger with Opnext on 23 July 2012).
"Our financial results were at the lower end of guidance for the third quarter [expected to be seasonally down to $140-155m], in the face of continued softness in the telecommunications market," commented president & CEO Alain Couder.
Revenues for 'Amplifiers, Filtering and Optical Routing' were down $10.4m quarter-on-quarter (from $31.2m to $20.8m), with about $3m of this drop due to selling the thin-film filter and interleaver product lines last quarter. Revenue for '10G and Lower Transmission Modules' was down $5.5m quarter-on-quarter (from $47.8m to $42.3m). Other product categories were flat to slightly down quarter-on-quarter: '40G and 100G Transmission Modules' down from $38.2m to $37.6m, 'Transmission Components' flat at $22.3m, and 'Industrial & Consumer' down from $20.1m to $18.6m. "Sales declined further than expected, which drove a higher loss compared with the prior quarter," noted Couder.
On a non-GAAP basis, gross margin has fallen from 15.9% a year ago and 15.7% last quarter to 10% (at the bottom of the expected range of 10-14%), driven by the overall fixed costs, higher inventory reserves (consistent with the lower demand forecast), and the impact of annual cost reductions being weighted most heavily to the March quarter.
Net loss has risen from $15.5m a year ago and $24.2m last quarter to $33.8m. Adjusted EBITDA was negative $24m (near the top of the expected range of negative $13.5-25m), compared with negative $13.2m last quarter and negative $9.9m a year ago. During the quarter, cash, cash equivalents, short-term investments and restricted cash fell from $96m to $80.5m.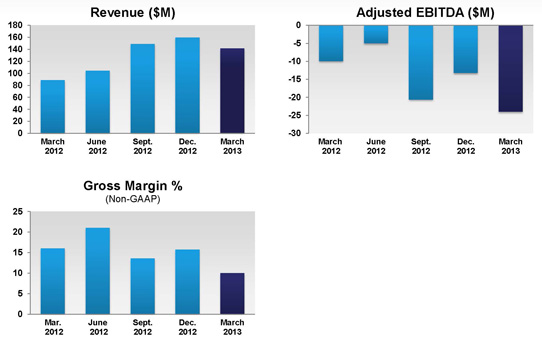 Picture: Oclaro's revenue, gross margin and adjusted EBITDA for fiscal Q3/2013.
Compared to just $1.6m in fiscal Q2/2013, capital expenditure (CapEx) was $2.6m (still significantly less than the previous $6m per quarter, and $10m per quarter in fiscal 2011). "We plan to continue to manage CapEx tightly while demand continues to be soft," commented chief financial officer Jerry Turin. "We expect CapEx to remain in the $2.5-4.5m range accordingly."
Oclaro has also secured $25m in short-term bridge loans from Providence Equity Capital Markets, which joins Wells Fargo Bank and Silicon Valley Bank as a lender under Oclaro's existing credit agreement (which has been revised). The term of the loan is about one year. "This financing is an initial step to simplify the company and develop a profitable operating model," Couder said.
Sell-offs expected
"In connection with the bridge financing from Providence, we amended our credit agreement with our existing lenders, in which we agreed to complete the sale of certain assets, product lines or operating segments of our business expeditiously, and we are actively engaged in a corresponding process," noted Couder. "We believe that a successful completion of such disposition of assets, product lines or operating segments is a necessary step to fund our continued operations and to complete our plans to restructure the company." Once those sell-offs have been completed, Couder is confident that Oclaro can become a profitable business: "Even while we battle with short-term challenges, I'm very encouraged about the future of Oclaro."
Outlook
During fiscal Q3, Oclaro completed the transfer in Japan from its earthquake-damaged building to a new building where the firm is now back in full production. Oclaro also started to ship the first products transferred from the firm's fab in Shenzhen, China to contract manufacturer Venture in Penang, Malaysia.
For fiscal Q4/2013 (ending 29 June), Oclaro expects revenue of $132-144m, gross margin of 9-13%, and adjusted EBITDA of negative $30-17m.
"The optical component sector has not yet seen a tangible upside, the enterprise data-center is strengthening according to some customers, but not the telecoms side at this point in time," commented Couder regarding Oclaro's own forecast and the wider markets. "As we exit March and enter the June quarter, we believe the overall demand environment is softer than in the December quarter, and this is particularly true in the telecoms market," added Turin.
Oclaro reports improved quarterly results
Oclaro's quarterly earnings slip further into red
Oclaro's revenue almost back to pre-flood levels
Oclaro and Opnext complete merger
Visit: www.oclaro.com
By Matthew Peach, Contributing Editor