9 May 2013
Oclaro introduces 80W high-brightness fiber-laser pump module
Optical components, modules and subsystems developer Oclaro Inc of San Jose, CA, USA has introduced its BMU80, a high-power fiber-coupled laser diode pump capable of delivering 80W power in a 105 micron fiber. The high-brightness pump enables fiber-laser manufacturers to generate higher pump power levels using fewer modules, allowing them to increase pump block efficiency, design more compact pump configurations, and simplify their packaging, says the firm.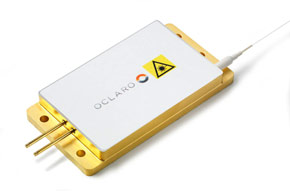 Picture: BMU80 high-power fiber-coupled laser diode pump.
The single-emitter based platform is available at output powers of 80W with a 0.15NA or 65W with < 0.14NA at 1kFITchip rating, making it the ideal solution for pumping of kilowatt and high power pulsed fiber lasers.
A proprietary optical scheme delivers light into the fiber with high- coupling efficiency, and a controlled under-filled NA along with a cladding mode stripping feature, which allows customers to increase reliability and reduce losses at the combiner. A compact, rugged housing offers superior thermal management. Automated alignment and manufacturing processes enable high volume with highest consistency in module-to-module performance.
The new multimode laser diode chip has endured a 4000 hour multi-cell life-test under accelerated conditions, totalling 0.5 million accelerated device hours, and has already been integrated into an Oclaro mid-power fiber-laser pump module, allowing a seamless upgrade from 25W to 30W.
Oclaro is showcasing the new pump modules, high-power lasers, visible and near-infrared lasers, and VCSEL portfolio at the LASER World of PHOTONICS conference (13-16 May) in Munich, Germany.
Tags: Oclaro DFB seed laser
Visit: www.oclaro.com