29 May 2013
Nitronex fully qualifies NPT1015 28V GaN-on-Si RF power transistor
Nitronex LLC of Durham, NC, USA, which designs and makes gallium nitride on silicon (GaN-on-Si)-based RF power transistors for the defense, communications, cable TV and industrial & scientific markets, has fully qualified its NPT1015 transistor.
The NPT1015 is a 28V, DC-2.5GHz, 50W power transistor with 12dB saturated gain and 60% peak drain efficiency at 2.5GHz. Its thermal resistance is 2.1°C/W, which is reckoned to be among the lowest in the industry in this power class. Also, the GaN technology is claimed to be capable of surviving the industry's most severe robustness tests without significant device degradation.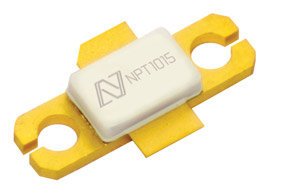 Picture:Nitronex's NPT1015 28V GaN-on-Si RF power transistor. 
Developed under an entirely new design processs that incorporates thermal management improvements to lower thermal impedance, the NPT1015 leverages Nitronex's existing 28V NRF1 process platform, which has been in volume production since 2009. Devices from multiple wafers were mounted in a 50 ohm test circuit tuned for CW operation at 2.5GHz, and operated at rated output power and subjected to a 15:1 VSWR (voltage standing wave ratio) at all phase angles. The devices showed 100% survivability with no measurable change in saturated output power.
"The NPT1015 is a robust next-generation product, as it incorporates significant thermal management improvements that increase breakdown and lowers thermal impedance," says president & CEO Greg Baker. "We are using these same techniques in our new 48V product line." The advances in product robustness and reliability put Nitronex's GaN-on-Si devices on a par with, or ahead of, competitive products that primarily use GaN-on-SiC, he adds.
Nitronex's patented SIGANTIC GaN-on-Si process is claimed to be the only production-qualified GaN process using an industry-standard 4" silicon substrate. This results in a robust, scalable supply chain, positioning Nitronex well for the growth expected from emerging GaN markets such as military communications, broadband, radar, commercial wireless, satellite communications and point-to-point microwave, the firm reckons.
Fully qualified NPT1015 transistors are now available from stock to 12 weeks.
Tags: Nitronex GaN-on-Si RF power transistors
Visit: www.nitronex.com