22 May 2013
JDSU's March-quarter revenue hit by delayed carrier spending
Including $0.4m from the March acquisition of Arieso, optical networking and associated semiconductor technology firm JDSU of Milpitas, CA, USA has reported net revenue of $405.3m for its fiscal third-quarter 2013 (to end-March), down 5.6% on $429.4m last quarter but up 0.5% on $403.3m a year ago (excluding results from the discontinued holographic security business, sold last October). This was at the low-end of the $405-425m guidance due to seasonality and budget delays.
Of total revenue, 47.9% ($194.1m) came from the Americas, 23.5% ($95.1m ) came from EMEA (Europe, Middle-East and Africa), and 28.6% ($116.1m) came from Asia-Pacific. This compares with 49.9%, 23.8% and 26.3% respectively last quarter, "reflecting a slight positive shift towards the Asia-Pacific region for the quarter," noted executive VP & chief financial officer Rex Jackson.
By sector, 44.2% of revenue came from Communications and Commercial Optical Products (CCOP), 43% from Communications Test & Measurement (CommTest) and 12.8% from Optical Security and Performance (OSP).
"The March 2013 quarter experienced delayed carrier capital expenditure budget releases [well into March, later than the February norm], which resulted in lower revenue than expected in our Communications Test & Measurement and Optical Communications businesses," commented president & CEO Tom Waechter.
CCOP revenue of $179.2m, up 3.5% on $173.1m a year ago but down 3.6% on last quarter's $185.8m, and just below the low-end of the guidance range (of flat plus or minus 3%). Within CCOP, Optical Communications revenue was $152.9m, down 1.7% on $155.6m last quarter but up 6.8% on $143.2m a year ago; Lasers revenue was $26.3m, down 12.6% on $30.2m last quarter due to fiber-laser revenue almost halving from $7m to $3.8m after a customer inventory correction.
"But despite the revenue challenges, we delivered solid results in most areas of the business," Waechter adds. Both the CCOP and OSP divisions increased gross margin sequentially and exceeded their operating margin guidance ranges. On a non-GAAP basis, CCOP gross margin improved sequentially from 30.9% to 31.8% (including Optical Communications improving from 28.3% to 29%, despite lower revenue, due mainly to product mix and cost improvements; Lasers gross margin rose from 44.4% to 48%). Despite this, overall gross margin was just 45.9% (or 46%, excluding Arieso), down on 48% last quarter (due primarily to lower CommTest segment mix and gross margin) but up on 45.6% a year ago.
Operating expenses were $158.4m, up $1.2m on $157.2m last quarter due mostly to the beginning of calendar-year payroll expenses. Operating margin was hence 6.8%, down on 11.4% last quarter and 7.2% a year ago (although fiscal Q3/2013 would also have been 7.2%, excluding Arieso). This included CCOP operating margin of 10.7%, down on 11.4% last quarter but exceeding the guidance range due to initiatives in supply chain optimization, multi-sourcing and design cost reductions.
Net income was $24.1m, down from $42.3m last quarter and $24.6m a year ago (although fiscal Q3/2013 would have been up, at $25.2m, without Arieso).
To focus on higher-growth, higher-margin sectors, during the quarter JDSU approved a strategic plan to exit a number of legacy low-speed wireline product lines in CommTest, incurring charges of $2.2m for accelerated amortization of related intangibles plus $11.3m for the write-off of inventory (both excluded from non-GAAP operating results). These discontinued low-margin products contributed about $1m of revenue in fiscal Q3.
"Our innovation engine and product portfolio align well with customers' strategic priorities, enabled by healthy cash generation and our strong balance sheet," says Waechter. JDSU generated $28.2m of cash from operations, more than halving from $59.4m last quarter but up on $13.2m a year ago. Capital expenditure (CapEx) totaled $13.4m. During the quarter, total cash and investments fell from $740.2m to $638.8m.
Outlook
For fiscal fourth-quarter 2013 (to 29 June), JDSU expects revenue to rise to $420-440m, including 7-11% sequential growth in both CCOP and CommTest (including $1-2m from Arieso). Operating expenses should rise $6-11m sequentially, reflecting a full quarter of Arieso of $4-5m, continuing investments in R&D, and higher variable compensation. Operating margin should be 9.5-11.5% for CommTest, 10-12% for CCOP, and 31-33% for OSP, and 7-9% overall (including more than a point of incremental operating loss from Arieso).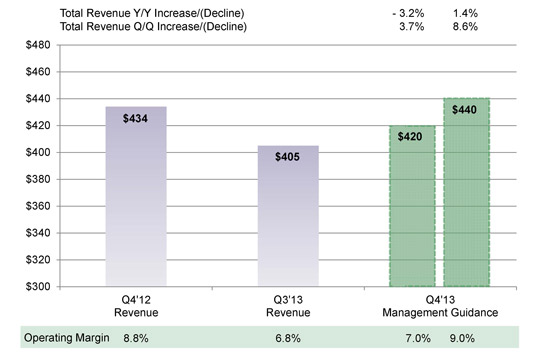 Picture: JDSU's fiscal Q4/2013 guidance for revenue and operating margin.
"Our outlook is based upon several factors," Waechter commented. "First, we see major spending by some large carrier customers as they work to align their incremental CapEx and their top strategic priorities. Second, we see a healthy level of carrier network design, bidding and award activity but again the timing of actual deployment is unclear." An example of this is 100G network deployment announced for one of the larger carriers in China. "The timing of actual deployment is not yet known," noted Waechter. "Finally, we are seeing a faster shift from legacy wireline to high-speed broadband and wireless technologies than we previously expected," he added.
"We indicated previously that we expected to see positive impact of increased network investments in our June quarter," said Waechter. "We believe public commentary by key customers and others continue to support that view, but continuing delays by certain significant customers lead us to be cautious," he added. "Looking forward in CommTest, we expect higher revenue and recovery in gross and operating margin. In CCOP, we also expect better revenue, including higher Lasers revenue and new gesture recognition revenue."
JDSU reports quarterly revenue at high end of guidance

JDSU reports quarterly revenue up year-on-year
JDSU's quarterly revenue rises 7.4%, driven by growth in North America
Tags: JDSU Optical communications
Visit: www.jdsu.com
Author: Matthew Peach, Contributing Editor