1 May 2013
Excelitas expands APD receiver module family for enhanced optical damage threshold and increased 1550nm peak response
Excelitas Technologies of Waltham, MA, USA has introduced two new products - the LLAM-1550E-R2AH and the LLAM-1550E-R08BH - to its LLAM line of silicon and indium gallium arsenide (InGaAs) high-speed, low-light analog avalanche photodiode (APD) receiver modules. Featuring enhanced optical damage thresholds and increased 1550nm peak response, the InGaAs-based LLAM-1550E modules offer greater resilience when exposed to higher optical power densities and increased reliability for a broad range of mission-critical applications.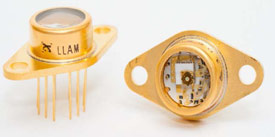 Picture: Excelitas' LLAM-1550E InGaAs APD preamplifier modules.
The LLAM-1550E modules were developed specifically for situations requiring a wide dynamic operating range, high-frequency response, extremely low-light detection scenarios such as laser imaging detection, combat, range finding and free-space communication.
Hermetically sealed within a TO housing, the modules are capable of detecting extremely low-light signals with a bandwidth up to 200MHz and have a spectral response of 900–1700nm. The LLAM series is offered as a standard, RoHS-compliant, commercial off-the-shelf product and can be customized for bandwidth and gain optimization, use of different APDs, and packages.
"We are proud of our legacy in providing mission-critical solutions to our defense and aerospace industries," says Michael Ersoni, senior VP & general manager, global detection business. "By extending our line of APD offerings with the new LLAM-1550E modules, we continue to deliver innovative, customizable products that meet the specific needs of our customers."
Excelitas is displaying the LLAM-1550E modules in booth #1842 at the 2013 SPIE Defense, Security & Sensing show in Baltimore, MD, USA (30 April–2 May).
Visit: www.excelitas.com/Downloads/DTS_LLAM.pdf