31 May 2013
Anadigics launches GaN power doubler line amplifier for 1.2GHz CATV systems
GaAs-based broadband wireless and wireline communications component maker Anadigics Inc of Warren, NJ, USA has launched the ACA2429 gallium nitride (GaN) power doubler surface-mount IC supporting operation up to 1.2GHz. Samples are available now for qualified programs.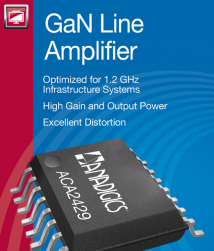 The firm's GaN line amplifiers combine Anadigics' MESFET technology with a GaN output stage in a proven package to deliver what is claimed to be exceptional performance and reliability in CATV infrastructure applications. With a combination of high gain, output power and linearity coupled with low current consumption (420mA at 24V operation) and bit error rate (BER), the GaN line amplifiers can be used as output power doublers for system amplifiers and deep fiber nodes. Anadigics says that this level of performance provides a power-efficient solution that saves energy and ensures distortion-free video and audio in an advanced fully loaded spectrum.
"New high-speed HFC [hybrid fiber coax] networks are demanding higher gain, output power and operating frequencies to provide additional video capabilities and increased data speeds," says Tim Laverick, VP of Infrastructure Products. "These systems continue to require exceptionally linear amplification at greater gain and output power levels than 1GHz systems to ensure quality and reliability," he adds. "Anadigics has responded to this challenge by developing GaN line amplifier solutions that combines our field-proven, highly linear GaAs technology with a high power GaN output stage in our reliable surface-mount package platform." 
The ACA2429 GaN power doubler provides 25dB gain with +60dBmV output power and 1.2GHz bandwidth. It delivers this performance with 10W of power consumption in a standard surface-mount package. The firm claims that its GaN surface-mount line amplifiers offer exceptional composite triple beat (CTB), composite second-order (CSO), cross modulation, and carrier-to-intermodulation noise (CIN) characteristics for optimal performance in a fully loaded spectrum.
Anadigics is exhibiting in booth 10.2 D50 at ANGA COM 2013 in Cologne, Germany (4-6 June).
Tags: Anadigics
Visit: www.anadigics.com