22 May 2013
First 802.11ac 4x4 reference design specifies Anadigics' WiFi FEICs
GaAs-based broadband wireless and wireline communications component maker Anadigics Inc of Warren, NJ, USA says that its AWL9281 and AWL9581 WiFi front-end integrated circuits (FEICs) have been selected for use with the industry's first 802.11ac 4x4 wireless solution.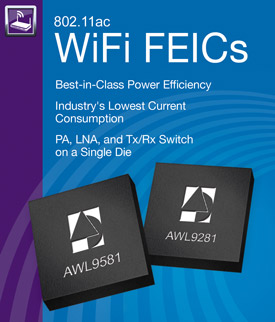 With multiple input, multiple output (MIMO) 802.11ac connectivity and beam-forming technology, devices using this reference design will utilize up to four FEICs simultaneously to achieve seamless wireless throughput of high-bandwidth data. The 4x4 system on chip (SoC) solution, coupled with Anadigics' 802.11ac FEICs, is optimized for infrastructure and multimedia applications, including gateways, routers, access points, gaming platforms, set-top boxes, and media servers.
"Our FEICs continue to set the standard with industry-leading linearity, noise figure, and thermal characteristics," claims Dave Cresci, Anadigics' VP of WiFi Products. "This level of performance ensures maximum throughput at extended range and excellent thermal management in MIMO implementations with multiple amplification paths," he adds. "With Anadigics' WiFi FEICs, manufacturers are able to develop next-generation devices for the most demanding wireless networking and multimedia applications."
Anadigics' 802.11ac FEICs leverage the firm's exclusive InGaP-Plus technology and patented design architectures to combine a high-performance power amplifier (PA), low-noise amplifier (LNA), and Tx/Rx RF switch on a single die. This level of integration greatly improves manufacturability and reliability, it is claimed. Also, the compact 2.5mm x 2.5mm x 0.4mm QFN package (incorporating a high-accuracy integrated power detector and RF ports internally matched to 50 Ohms) reduces PCB space requirements and simplifies RF front-end design (speeding time-to-market).
Anadigics' WiFi solutions also deliver thermal performance that ensures proper thermal management in MIMO applications that use multiple FEICs, the firm says. The complete family of FEICs provides error vector magnitude (EVM) and noise figure performance enables ultra-high data throughput, it adds.
Tags: Anadigics
Visit: www.anadigics.com