22 May 2013
Solid-state lighting expert Bernhard Stapp joins Aledia's board
Aledia S.A. of Grenoble, France, which is developing light-emitting diodes based on 'WireLED' three-dimensional (3D) microwire GaN-on-silicon technology that is claimed to cut manufacturing costs compared to conventional planar (2D) LEDs, says that solid-state lighting (SSL) industry veteran Dr Bernhard Stapp has joined its board of directors.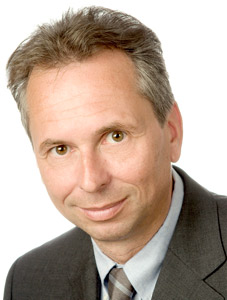 Picture: Dr Bernhard Stapp.
Stapp has more than 12 years of executive experience in LED lighting, most recently in senior management positions at Germany-based lighting manufacturer Osram.
As general manager & senior VP of Osram AG's SSL unit, Stapp was responsible for the firm's professional LED and organic LED (OLED) business. Earlier, as SSL VP & general manager at Osram Opto Semiconductors GmbH of Regensburg, Germany, he launched and managed the general-lighting LED business and oversaw the launch of the world's first OLED lighting products. Prior to that, Stapp was VP & chief technology officer of the semiconductor firm, where he oversaw global LED, laser and OLED R&D. Earlier in his career, he held various management positions in Siemens AG's Corporate Technology division.
"Aledia's mission is to bring fundamental change to the world's lighting markets by making LED technology substantially more affordable and more versatile, with better performance and fewer limitations," says Aledia's co-founder, president & CEO Giorgio Anania. "Bernhard has been a key player at the heart of the global LED industry since its inception, and also has an outstanding technical background," he adds. "His unique perspective on this industry's future will be invaluable as Aledia moves into the next stage of its evolution."
WireLED, Aledia's unique 3D microwire GaN-on-silicon technology, was developed at the CEA-Leti nanotech research institute in Grenoble. It aims to address the basic technical and economic challenges facing LED lighting by allowing production of LEDs on inexpensive industry-standard 8-inch (200mm) silicon wafers (or larger) using standard semiconductor processes and tools in existing CMOS foundries. "It [WireLED technology] can meet the industry's critical requirement for cost-reduction, while using far simpler production processes and much less material than conventional approaches," comments Stapp. 
Veeco's K465i MOCVD system chosen for CEA-Leti and nanowire-LED spin-off Aledia

CEA-LETI spin-off Aledia makes its first LEDs on 8-inch silicon wafers using microwire technology
Visit: www.aledia.com