8 March 2013
Lemelson-Rensselaer Student Prize awarded to Ming Ma for GRIN LEDs
Ming Ma, a doctoral student in the Department of Materials Science and Engineering of the Rensselaer Polytechnic Institute (RPI), has been named the winner of the 2013 Lemelson-Rensselaer Student Prize which (along with prizes for students at the Massachusetts Institute of Technology and the University of Illinois at Urbana-Champaign) is one of three $30,000 Lemelson-MIT Collegiate Student Prizes awarded annually.
The Lemelson-MIT Program was founded in 1994 by Jerome H. Lemelson (one of America's most prolific inventors) and his wife Dorothy. Funded by the private philanthropy The Lemelson Foundation, the program is administered by MIT's School of Engineering, and supports projects in the USA and developing countries that nurture innovators to advance economic, social and environmentally sustainable development.
Ma is the seventh recipient of the Lemelson-Rensselaer Student Prize. First given in 2007, it is awarded annually to a senior or graduate student at RPI who has created or improved a product or process, applied a technology in a new way, redesigned a system, or demonstrated remarkable inventiveness in other ways.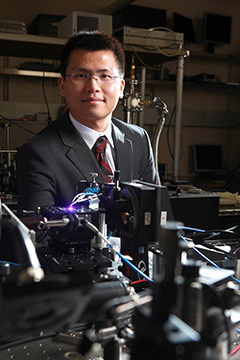 Picture: Ming Ma's, whose GRIN LED technology has demonstrated a light-extraction efficiency of 70%. Image courtesy of RPI.
RPI says that Ma has developed a new method for manufacturing LEDs that are brighter, more energy efficient, and have superior technical properties than those currently on the market. His patent-pending invention of 'GRIN' (graded-refractive-index) LEDs could hasten adoption of LEDs and cut the overall cost and environmental impact of illumination, it adds.
Conventional incandescent and fluorescent light sources are increasingly being replaced by more energy-efficient, longer-lived, and environmentally friendlier LEDs, but LEDs still suffer from challenges related to brightness, efficiency, and performance. With his project 'Graded-refractive-index (GRIN) Structures for Brighter and Smarter Light-Emitting Diodes', Ma has tackled a fundamental technical shortcoming of LED materials, it is claimed.
Currently, most unprocessed LEDs have a light-extraction efficiency of only 25%, so 75% of light produced gets trapped within the device. One solution that has emerged is to roughen the surface of LEDs, in order to create nanoscale gaps and valleys that enable more light to escape. While surface roughening leads to brighter and more efficient light emission, the roughening process creates random features on the LED's surface that do not allow complete control over other critical device properties such as surface structure and refractive index.
Ma's solution to this problem was to create an LED with well-structured features on the surface to minimize the amount of light that gets reflected back into the device, boosting the amount of light emitted. His process creates many star-shaped pillars on the surface. Each pillar consists of five nanolayers, engineered specifically to help guide the light out of the LED material and into the surrounding air.
Ma's patent-pending GRIN LED technology has demonstrated hugely improved light-extraction efficiency of 70%. GRIN LEDs also have controllable emission patterns, and enable more uniform illumination. Overall, it is reckoned that Ma's innovation could lead to new methods for manufacturing LEDs with increased light output, greater efficiency, and more controllable properties than both surface-roughened LEDs and the LEDs currently on the market.
Growing up in Jiangxi Province in southeast China, Ma became interested in advanced materials as an undergraduate student at Fudan University in Shanghai. Ma joined RPI in 2008 as a member of professor E. Fred Schubert's research team. He has since been the first author on five research papers, published in Applied Physics Letters, Journal of Applied Physics, and Optics Express, and co-author of several studies in other journals. He is also a reviewer for Optics Letters and Optics Express. Upon completing his doctoral degree later this year, Ma plans to continue researching materials and LEDs in academia or industry.
"Ming's technical accomplishments are innovative, and have had a significant impact on the LED materials research community," comments Schubert, the Wellfleet Senior Professor in the Future Chips Constellation at RPI and a faculty member of the Department of Electrical, Computer, and Systems Engineering and Department of Physics, Applied Physics, and Astronomy. "Ma's invention [GRIN LEDs] is the first viable approach for high-efficiency LEDs with a controllable far-field emission pattern," he adds. "This is an important development for LED lighting, and it is already capturing the attention of industry."
Visit: www.eng.rpi.edu/lemelson
Visit: http://web.mit.edu/invent/a-student.html