26 March 2013
Peregrine's UltraCMOS RFICs designed into six Globalstar mobile communication satellites
Peregrine Semiconductor Corp of San Diego, CA, USA, a fabless provider of radio-frequency integrated circuits (RFICs) based on silicon-on-sapphire (SOS), says that its UltraCMOS phase-locked loop (PLL) frequency synthesizer and prescaler devices are designed into six Globalstar mobile communication satellites (built by Thales Alenia Space, France), that were launched into orbit on 6 February. The low-Earth orbit satellites transmit audio and data communications for Globalstar's mobile voice and data customers.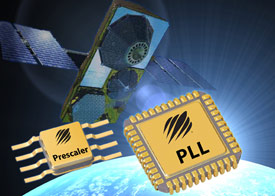 Picture: Peregrine RFICs designed into Globalstar mobile communication satellites.
Peregrine's PLL and prescaler enable communication in sixteen C- and S-band transponders in the system, which connects end users with terrestrial communication networks via vehicle-mounted mobile devices, as well as fixed terminals, such as those used for rural telephony. The devices feature extremely low phase noise and single-event effect (SEE) immunity, enabled by the insulating properties of UltraCMOS process technology, as well as low power, small form factor, and light weight, says the firm.
"We're delighted that Peregrine's PLL and prescaler were selected for the Globalstar satellites and that UltraCMOS, with its inherent radiation-induced latchup immunity, continues to be the technology of choice for this, or any, space application," says Dave Shepard, VP of Peregrine's High-Performance Solutions business unit.
Single-event effects (SEEs) are errors that are caused by naturally-occurring space-based radiation. There are two primary types of SEEs: Single-event upsets (SEUs) are non-destructive and can be corrected, and Single-event latchups (SELs), which are often catastrophic, and result in permanent damage. SELs can occur when a high-energy particle strikes a semiconductor device, causing a short circuit from power to ground within the device. RFICs manufactured using UltraCMOS technology do not contain the bulk parasitics found in regular CMOS devices, making latchup impossible.
Peregrine's UltraCMOS technology is an advanced RF Silicon-On-Insulator (SOI) process that utilizes a synthetic sapphire substrate. This substrate enables low parasitic capacitance, high signal isolation, excellent broadband linearity, and inherent SEL immunity, says the firm.
Visit: www.psemi.com