22 March 2013
Osram boosts Golden Dragon infrared LED output by 20% via higher efficiency at currents up to 2A
Osram Opto Semiconductors GmbH of Regensburg, Germany claims that, with typical optical output power of 650mW, its new Golden Dragon SFH 4232A infrared LED (IRED) is currently the most efficient infrared power emitter on the market. House in a performance-proven 11mm x 6mm x 1.8mm SMT package, the luminous efficacy of the high-power component is more than 39% at a drive current of 1A. The IRED can hence provide the basis for reliable monitoring and surveillance systems and help to reduce system costs, says the firm, benefitting general applications in process and production control in industry and camera-based surveillance applications.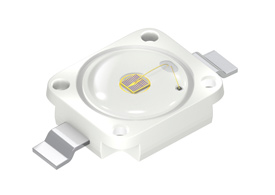 Picture: The Golden Dragon SFH 4232A infrared LED.
Road intersections, bus stations, parking lots and other public areas need high-performance surveillance systems, notes Osram Opto. Cost-effective systems can be provided based on the infrared Golden Dragon SFH 4232A, supplied in a tried-and-tested SMT (surface-mount technology) package design, it adds.
The new SFH 4232A IRED contains the firm's latest-generation high-power thin-film chip, emitting infrared light with a wavelength of 850nm. The IRED has a beam angle of +/-60 degrees and achieves a typical optical output of 650mW from an operating current of 1A and voltage of 1.65V. This equates to an increase of more than 20% compared with the 530mW of its predecessor model. The radiant intensity (i.e. the light output within a solid angle) is 210mW/sr at 1A. This higher optical output has been achieved due to improved light extraction from the chip.
The 1mm2 chip is optimized for currents up to 2A, making the new Golden Dragon suitable for the infrared illumination required in security applications. Due to improved output efficiency, more light can be generated from the same chip surface and fewer components are needed to achieve a particular brightness, resulting in reduced system costs, says Osram Opto. Alternatively, if the same number of components is used as before, then the infrared lighting unit will be considerably brighter.
"Customers are provided with a tried-and-tested product of the same size but with higher output, and they also benefit from lower system costs in their particular applications," summarizes Dr Jörg Heerlein, head of product marketing for industrial infrared components.
Visit: www.osram-os.com