18 March 2013
Oxford Instruments launches PlasmaPro1000 Astrea system to maximize batch etch for HB-LED production
UK-based etch and deposition system maker Oxford Instruments Plasma Technology (OIPT), a division of Oxford Instruments, has announced an evolution in batch etch technology with the launch of its PlasmaPro1000 Astrea etch system, a large batch etch solution for patterned sapphire substrate (PSS), gallium nitride (GaN) and aluminium gallium indium phosphide (AlGaInP) that will offer high-brightness light-emitting diode (HB-LED) production manufacturers high throughput coupled with what is claimed to be industry leading cost of ownership (CoO).
The launch is being made at the LED China exhibition in Shanghai this week, where Oxford Instruments Plasma Technology's HB-LED product manager Dr Mark Dineen is presenting the system to conference delegates.
"The PlasmaPro1000 Astrea is our ultimate batch etch tool, building on over 15 years experience as a major supplier to the HBLED industry," says Dineen. "HB-LED manufacturers justifiably demand high yield, high throughput, optimum device quality and low cost of ownership," he adds. "Our PlasmaPro1000 Astrea large batch etch system offers solutions for all of these."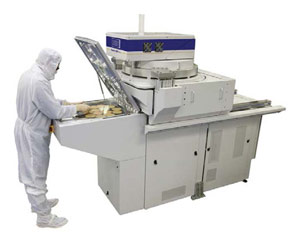 Picture: Oxford Instruments' new PlasmaPro1000 Astrea system.
With wafer batch sizes from 55x2" to 3x8", the system has been designed specifically for the harsh chemistries required for HB-LED materials. The PlasmaPro1000 Astrea delivers low-damage, high-yield processes, ensuring the maximum light output from customers' chips, it is claimed. The system is highly configurable, with process chambers that are available as standalone modules or in cluster configurations, available on a four-sided cluster tool capable of supporting up to three process modules.
Designed to ensure high system availability and ease of serviceability, key system features and benefits include:
>690mm large-area source for highly uniform plasma;
a 490mm electrode, giving what is reckoned to be unparalleled throughput from batch sizes of 55x2", 14x4", 7x6" and 3x8";
a high-conductance pumping system;
a dual-entry gas inlet for ease of process tuning;
maximized clamping for wafer cooling;
a Z-movement electrode for ultimate uniformity; and
reliable hardware and ease of serviceability to boost uptime.
"This advanced and innovative system has been developed to address the exacting needs of HB-LED production users, who demand not only the very latest technological innovations, but also superb customer support," says managing director Dan Ayres. "Oxford Instruments constantly strives to improve and evolve its systems to provide the ultimate tool." With access to an exclusive library of over 6000 process recipes, built up over 25 years as a plasma tool manufacturer, customers are guaranteed comprehensive backup, he adds.
Tags: Oxford Instruments
Visit: www.oxford-instruments.com/