6 March 2013
GeneSiC's low-inductance second-generation hybrid SiC Schottky rectifier/Si IGBT modules enable 175°C operation
Silicon carbide (SiC) power semiconductor supplier GeneSiC Semiconductor Inc of Dulles, VA, USA has announced the immediate availability of its GB100XCP12-227 second-generation hybrid mini-modules using 1200V/100A SiC Schottky rectifiers with rugged silicon IGBTs.
The performance-price point at which the product is being released allows many power conversion applications to benefit from the reduction in cost/size/weight/volume that neither silicon IGBT/ silicon rectifier solutions nor a pure SiC module can offer, claims the firm. The devices are targeted at applications including industrial motors, solar inverters, specialized equipment and power grid applications.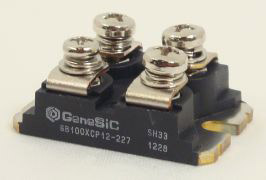 Picture: GeneSiC's 1200V/100A SiC rectifier/Si IGBT co-packaged mini-modules.
GeneSiC says that its SiC Schottky/Si IGBT mini-modules (co-packs) are made with Si insulated-gate bipolar transistors (IGBTs) that exhibit a positive temperature coefficient of on-state drop (1.9V at 100A), a robust punchthrough design, high-temperature operation (maximum junction temperature of 175°C) and fast switching characteristics that can be driven by commonly available commercial 15V IGBT gate drivers. Turn-on energy losses are 23 microJoules (typical).
The SiC rectifiers used in the co-pack modules allow extremely low-inductance packages, low on-state voltage drop and no reverse recovery, notes the firm. The SOT-227 package offers an isolated-baseplate, 12mm low-profile design that can be used flexibly as a standalone circuit element, high-current paralleled configuration, a phase leg (two modules), or as a chopper circuit element.
"We listened to our key customers since the initial offering of this product almost 2 years back," says president Dr Ranbir Singh. "This second-generation 1200V/100A co-pack product has a low-inductance design that is suitable for high-frequency, high-temperature applications," he adds. "The poor high-temperature and reverse-recovery characteristics of silicon diodes critically limits the use of IGBTs at higher temperatures. GeneSiC's low-VF, low-capacitance SiC Schottky diodes enable this breakthrough product."
All devices are 100% tested to full voltage/current ratings and housed in halogen-free, RoHS-compliant industry-standard SOT-227 packages.
Visit: www.genesicsemi.com