20 March 2013
Anadigics adds 1GHz surface-mount line amplifiers optimized for CATV systems in Asia
GaAs-based broadband wireless and wireline communications component maker Anadigics Inc of Warren, NJ, USA has launched three new surface-mount line amplifiers. The ACA2460E, ACA2461E and ACA2462E 1GHz line amplifiers are optimized for cable television (CATV) systems in Asia by combining low power consumption and enhanced thermal performance with a wide gain range. They also provide high linearity to ensure optimal performance in a fully loaded spectrum.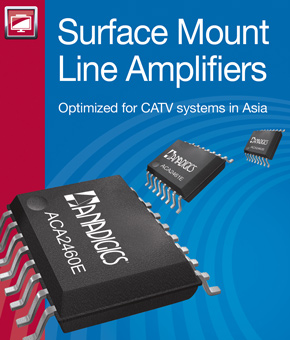 "As emerging CATV markets aggressively build out new infrastructure, equipment manufacturers are seeking RF components that meet the unique specifications required by these applications," says Tim Laverick, VP of Infrastructure Products. Anadigics' line amplifiers ensure distortion-free video and audio, while minimizing costly field failures, he adds. "Our new surface-mount line amplifiers expand our MMIC product family with a wider range of gain and significantly reduced power consumption targeted for CATV systems in Asia."
Anadigics says that its new 24V MMIC line amplifier 'eco' power doublers leverage the firm's proven MESFET process technology to deliver high linearity and reliability, with a high mean-time-to-failure (MTTF). The ACA2460E, ACA2461E and ACA2462E line amplifiers provide 22dB, 25dB and 28dB of gain, respectively, to provide the performance and flexibility required to design systems up to 1GHz. With lower power consumption and the proven thermal characteristics of Anadigics' standard SOIC (small-outline integrated circuit) package platform, the new MMIC line amplifiers help to reduce heat sink requirements.
Anadigics is also demonstrating an innovative system-level manufacturing solution for these MMICs during the China Content Broadcasting Networking (CCBN 2013) conference at the China International Exhibition Center (CIEC) in Beijing (21-23 March).
Samples of the ACA2460E, ACA2461E and ACA2462E are available for qualified customers.
Anadigics expands hybrid line amplifier module family to 1GHz

Tags: Anadigics Power doubler
Visit: www.anadigics.com
Visit: www.ccbn.tv