6 March 2013
Aixtron reports loss of €132m for 2012 as sales fall 63%
For full-year 2012, deposition equipment maker Aixtron SE of Herzogenrath, Germany has reported revenue down by 63% to €227.8m (from €611m in 2011). But despite the dramatic fall in full-year sales, fourth-quarter revenue of €77.5m was up 25% on Q3/2012's €62.2m.
| | | | | | |
| --- | --- | --- | --- | --- | --- |
| Fiscal | Q4/2011 | Q1/2012 | Q2/2012 | Q3/2012 | Q4/2012 |
| Revenue | €140.1m | €42m | €46.1m | €62.2m | €77.5m |
Throughout 2012, customers "remained hesitant to add significant LED manufacturing capacity, despite increasingly high utilization rates at some mainline Asian manufacturers," the firm says. Aixtron describes a "slow recovery of revenues but a virtually flat order intake throughout the year, reflecting a reluctant investment attitude by customers and a continuation of macroeconomic uncertainty. Total order intake in full-year 2012 was €131.4m, down 74% on 2011's €513.4m. However, orders in second-half 2012 were about 14% higher than first-half 2012. Year-end order backlog stood at €79.4m, 44% lower than the €141m at end-2011 (although a third of this reduction was due to the €19m order backlog adjustment made in Q3/2012).
The second-half order intake development that became clearer in Q3/2012 did not constitute the expected second-half market recovery, and became a catalyst for "a thorough internal review into the company's immediate outlook", said the firm. The conclusion of Aixtron's management, announced in October, was that the objective at the start of the year of remaining EBIT profitable in 2012 was not achievable.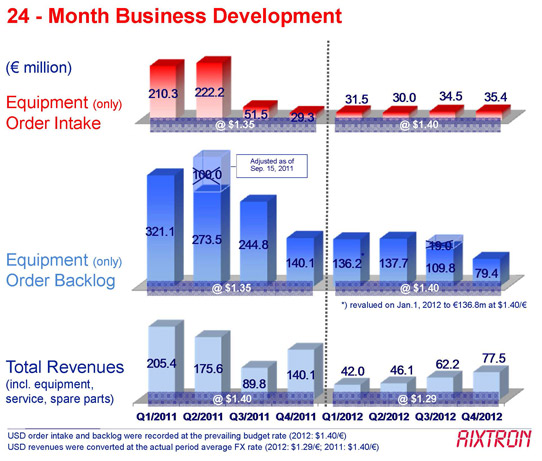 The accompanying risk assessment that was conducted as part of this business review also concluded that the likelihood of "ongoing subdued demand" necessitated the reduction in value of certain work-in-progress assemblies, components and spare parts. The firm had hence executed a significant write-down of €51.5m in inventories in Q3/2012.
The subdued business environment, evident throughout 2012, had a consequent effect on Aixtron's overall 2012 earnings. Gross profit declined to €0.4m (contrasting sharply with 2011's €231.4m) and earnings before interest and taxes (EBIT) dived to -€132.3m (compared with a profit of €112.9m in 2011, and worse than the -€125m forecast at the end of October). The firm continues to implement cost-reduction measures, which include both efficiency improvements and cost-reduction measures throughout the organization.
The 2012 net loss of -€145.4m was down considerably on the profit of €79.5m achieved in 2011. Aixtron says that its executive and supervisory boards will propose to its shareholders' meeting that the 2012 loss should be carried forward, and consequently no dividend for 2012 will be distributed.
Management review
Looking ahead, Aixtron's management expects demand for MOCVD production equipment to "potentially improve" as demand for LEDs increases later in the current year. Looking at the same time frame, the firm stated cautiously that it "envisages incremental equipment demand arising from non-LED emerging MOCVD applications and other technology markets, including silicon and organic semiconductor applications. Nevertheless, the exact timing of that order intake pickup is difficult to predict whilst order visibility remains so low."
"2012 proved to be an exceptionally challenging year for Aixtron, largely due to the severe and extended macroeconomic headwinds that the whole world has been suffering from," said president & CEO Paul Hyland. "Our original expectation that 2012 would develop into a transitory year with the prospect of a significantly better second half has evidently not materialized.
"However, the ongoing, albeit low level of demand we have seen in the second half of 2012 and into 2013, encourages us to reiterate our view that we have reached the bottom of the current cycle and that we might reasonably expect to see further market recovery at some point during 2013, driven by increasing demand for LED manufacturing equipment," he added.
"We also remain confident that we will see increased demand for our manufacturing equipment for non-LED applications such as power electronics, silicon or organic applications going forward," Hyland continued. "Despite the current short-term challenges, we will continue to invest into the development of manufacturing technologies for these and other emerging markets to secure our technological leadership and stay fit for the future."
Outlook
Despite the generally more positive outlook for 2013, Aixtron said that there remains "a high degree of uncertainty" about the timing of a significant order recovery. Hence, despite an improving market consensus on the potential outlook for the back end of 2013, Aixtron's management is "unable at this stage [the end of February 2013] to offer precise revenue and EBIT margin guidance for the year, due to the prevailing low visibility."
Aixtron's Q3 upturn not enough to avoid heavy 2012 loss

Aixtron records €51.5m inventory write-down due to slower-than-expected recovery in MOCVD demand
Aixtron's revenue rebounds by 10%; non-LED activities gaining traction
Aixtron's revenue falls 70% in Q1 as Asia slumps from 92% to 76% of sales
Aixtron reports loss in Q4 on revenue down 38% year-on-year
Visit: www.aixtron.com
Author: Matthew Peach, Contributing Editor