5 June 2013
Toshiba adds high-gain 200W C-band GaN HEMT power amplifier for weather radar
Toshiba America Electronic Components Inc (TAEC) - a subsidiary of Tokyo-based semiconductor maker Toshiba Corp - has added a 200W C-band gallium nitride (GaN) high-electron-mobility transistor (HEMT) to its power amplifier product family. The new device is being exhibited in booth #2027 at the IEEE MTT-S International Microwave Symposium (IMS 2013) in Seattle, WA, USA (4-6 June).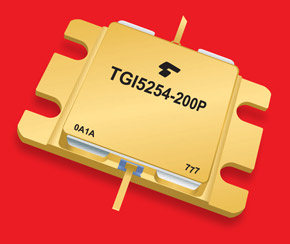 The 200W TGI5254-200P is Toshiba's first commercial C-band GaN HEMT optimized for pulsed operation to support C-band radar applications. Operating at 5.2-5.4GHz, typical output power is 53.0dBm with 43dBm input power, power gain is 10.0dB and drain current is 2.4A, with a supply voltage of 24V at 25°C (nominal pulse width 200µs; duty ratio 10%). The device enables increased output power and, housed in a 7-AA06A package, helps to reduce size and weight in solid-state power amplifiers (SSPAs) for radar applications.
"Although this is our initial entry into this specific type of C-band GaN HEMTs, Toshiba has long been a leading manufacturer of solid-state power amplifiers for radar applications in the Japanese domestic and international markets," says Homayoun Ghani, business development manager, microwave devices, for TAEC's Discrete business unit. "Our GaN HEMTs have been one of the technological foundations helping to accelerate the modernization of radar technology from a tube-based to a solid-state-based design," he claims. "In fact, solid-state weather radar systems using Toshiba devices are currently in operation at several sites in Japan."
Samples of the C-band GaN HEMT will be available in third-quarter 2013.
Visit: www.toshiba.com/taec