5 June 2013
Toshiba expands high-power C-band GaN HEMT product line to support SatCom market
Toshiba America Electronic Components Inc (TAEC) - a subsidiary of Tokyo-based semiconductor maker Toshiba Corp – has expanded its gallium nitride high-electron-mobility transistor (GaN HEMT) lineup with the addition of three new devices optimized to support extended C-band SatCom applications. Housed in 7-AA06A packages, the TGI5867 broadband GaN HEMT family is targeted at block up-convertors (BUCs) and solid-state power amplifiers (SSPAs), and is being exhibited in booth 2027 at the IEEE MTT-S International Microwave Symposium (IMS 2013) in Seattle, WA, USA (4-6 June).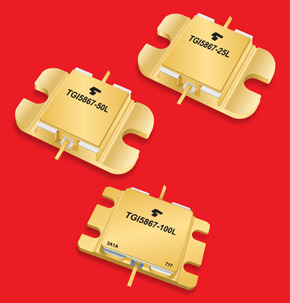 With available power ratings of 25W, 50W and 100W, the TGI5867 family supports extended C-band (5.85-6.725GHz frequency range) satellite communications, enabling satellite operators to offer more service and data traffic capacity. The TGI5867-100L has an output power at 100W or 50.0dBm (typical), with an input power of 20W or 43dBm (nominal), linear gain at 11.0dB (typical) and power-added efficiency (PAE) of 38%. The TGI5867-50L and 25L have typical output power at 50W and at 25W, linear gain at 13.0dB and PAE of 40% and 45%, respectively.
"The expansion of our GaN HEMT product family brings high-gain, high-power and broadband features that help designers build energy-efficient SSPAs and BUCs," notes Homayoun Ghani, business development manager, microwave devices, for TAEC's Discrete business unit. "By adding the 100W, 50W and 25W lineup to our GaN HEMT product family, Toshiba is now able to provide a full GaN HEMT-based SSPA design solution for extended C-band SatCom applications," he adds. "This solution will help microwave designers eliminate multiple power supply rails and reduce the number of parts in their overall system."
Samples of the extended C-band GaN HEMT family will be available in third-quarter 2013.
Visit: www.toshiba.com/taec