6 June 2013
Everlight adds two IRLEDs for remote controls and optical touch panels
Everlight Electronics Co Ltd of Shulin, New Taipei City (Taiwan's largest LED assembly manufacturer) has expands its product range of 'invisible' light sources for remote control applications with two new SMD infrared LEDs (IRLEDs), the IR26-71C and the IR26-61C.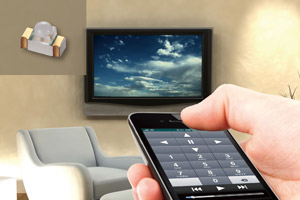 Picture: Everlight's infrared LED IR26-71C for wide-viewing-angle designs.
The two IR26-71C models are 940nm side-view surface-mount (SMD) IRLEDs with mechanical (height) and optical (radiant intensity and viewing angle) characteristics that make them suitable for use in remote controls and touch panels. Their height of only 1.2mm allows the devices to be as slim as possible, even when implemented into portables such as mobile phones and tablets. Radiant intensities are 5mW/sr and 8mW/sr or more, respectively, at a drive current of 20mA. The 8mW/sr@20mA version matches or exceeds 5mm IR diodes, and allows either lower driving currents (to extend the battery lifetime of handheld devices) or increased panel size, and respectively increased transmission distance for remote controls. A viewing angle of 50° ensures that the remote control does not need to be pointed directly towards the receiving device, but instead provides a wide operating range.
Based on a similar package design, Everlight offers the IR26-61C IRLED series (with a narrower viewing angle of 20°) as well as the PT26-71B phototransistor series, which represent a matching pair designed for small-to-mid size (5-32") optical touch panel applications. Due to the same low height of just 1.2mm, the slit for the touch panel's optical frame can be kept very small, allowing the device to be slimmer and have a higher quality appearance.
Samples are available on request, and the devices are in mass production now.
Everlight launches HIR LEDs for proximity-sensors and high-tech intelligence touch panel applications
Visit: www.everlight.com