11 June 2013
EPIR founder Sivananthan honored made White House 'Champion of Change'
On 29 May, Dr Sivalingam (Siva) Sivananthan, CEO & founder (in 1998) of EPIR Technologies Inc in Bolingbrook (a suburb of Chicago), IL, USA (which develops infrared sensor, biosensor and solar photovoltaic products), was honored at a White House ceremony in Washington DC as one of 11 'Champions of Change' among immigrant entrepreneurs — an award recognizing "the best and brightest from around the world who are helping create American jobs, grow the economy and make our nation competitive in the world".
"Immigrants have long made America more prosperous and innovative, and the Champions we are celebrating today represent the very best in leadership, entrepreneurship, and public service," said US chief technology officer Todd Park at the ceremony. "We are proud to recognize these leaders who work every day to grow our economy, advance science and technology, and support their home communities," he added.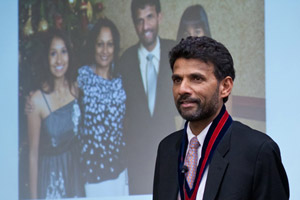 Picture: Siva Sivananthan, with a photo of his family is in the background. (Photo: Matthew Kaplan)
The sixth of nine children born to schoolteachers in Chavakacheri, Sri Lanka, Sivananthan sold coconuts and mangoes as a child to earn money for his family. After earning a bachelor's degree in physics at the University of Peradeniya, in 1982 he became a graduate student at University of Illinois at Chicago (UIC), obtaining Master's and Ph.D. in physics. In 1994, he was made director of the Microphysics Laboratory (MPL) in UIC's Department of Physics. In 2011, Sivananthan was named the College of Liberal Arts and Sciences Distinguished Professor of Physics at UIC. Sivananthan is also a fellow of the American Physical Society (APS). This year, on 1 May at the SPIE Defense, Security and Sensing symposium in Baltimore, MD, USA, he was honored by SPIE (the International Society for Optics and Photonics) for his contributions to the development of II-VI photovoltaic materials, receiving the SPIE fellowship.
"I started EPIR in 1998 to provide research and development for mercury cadmium telluride [MCT, or HgCdTe] technology, and to eventually become a manufacturer for infrared materials and devices," Sivananthan says. "I saw the need and opportunities for a horizontally integrated merchant supplier in the infrared imaging and sensor market," he adds.
"Military requirements necessitate research and development work done at industrial as well as university laboratories," Sivananthan continues. His work with MCT is at the heart of night-vision technology used by the US military. Working with US defense agencies and industry, Sivananthan promoted the need for on-shore capabilities and horizontal integration for infrared materials and devices. In 2005 Dr Fenner Milton, director of the US Army Night Vision Laboratory, awarded Sivananthan the 'Friend of the Night' award and the 'Conquest of Darkness' medallion.
Sivananthan is currently leading strategies at EPIR to strengthen its infrared material foundry and focal plane array (FPA) fabrication facilities, in collaboration with DRS Technologies, FLIR Systems and BAE Systems. DRS is qualifying the material from EPIR. "The ultimate goal is to qualify EPIR as a merchant supplier of HgCdTe material for DRS NIS' future cooled products," says Dr James Robinson, VP of technology at DRS Network and Imaging Systems (NIS). BAE Systems has licensed to EPIR the fabrication of its liquid-phase epitaxy (LPE) MCT detector array technology.
Also, because, at its most fundamental, MCT technology is about transforming light into electricity, Sivananthan has helped to found InSPIRE (Institute for Solar Photovoltaic Innovation, Research and Edu-training), a nonprofit organization with the mission of training workers and encouraging high-school and college students to pursue careers in renewable energy, and hence nurturing a solar ecosystem in Illinois.
Sivananthan is also the founder of the Bell-Labs-styled incubator Sivananthan Laboratories Inc in Bolingbrook, which aims to nurture small businesses by fostering fundamental R&D that bridges the gap between academia and industry, focusing on IR technology, radiation detection, materials research and biosensors.
Tags: EPIR
Visit: www.whitehouse.gov/champions
Visit: www.uic.edu
Visit: www.epir.com