26 June 2013
Anadigics' ProEficient-Plus PAs power Samsung's new Galaxy S 4 Mini
GaAs-based broadband wireless and wireline communications component maker Anadigics Inc of Warren, NJ, USA is shipping production volumes of its AWT6751 and AWT6755 dual-band ProEficient-Plus WCDMA power amplifiers (PAs) to Samsung Electronics for multiple devices, including the new Galaxy S 4 Mini. This latest smartphone features a 4.3-inch Super AMOLED display and is more compact than the recently released flagship Galaxy S 4, which leverages Anadigics' RF solutions for WiFi and cellular connectivity. The Galaxy S 4 Mini also has a 1.7GHz dual-core processor, 8-megapixel camera, and Android 4.2.2 Jelly Bean operating system.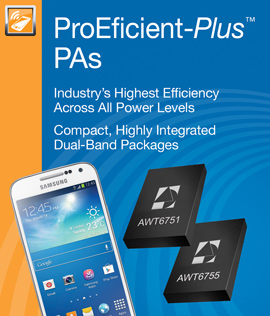 Anadigics says that its ProEficient-Plus solutions deliver high efficiency in low-power mode for greater talk-time and high-power mode for longer data application use, maximizing battery life in 3G mobile devices such as the Galaxy S 4 Mini. The power amplifiers are offered in highly integrated dual-band configurations that minimize RF space requirements to provide greater design flexibility.
"Our dual-band ProEficient-Plus power amplifiers have set the standard for 3G performance and integration by delivering the industry's highest efficiency across all power levels in compact dual-band packages," claims Jerry Miller, senior VP of Cellular Products. "Through close collaboration with Anadigics, Samsung is leveraging these tremendous advantages in the design of the latest generation of sleek, ultra-thin smartphones that offer exceptional battery life."
Dual-band ProEficient-Plus power amplifiers leverage Anadigics' exclusive InGaP-Plus technology and patented design architectures to provide high performance and integration. The power amplifiers enable greater battery life in mobile devices by delivering high efficiency in low- and high-power modes, as well as low quiescent currents (of 6mA) without the use of a DC/DC converter. ProEficient-Plus solutions are also compatible with average power tracking (APT) to further increase efficiency and reduce current consumption at medium and low operating powers.
The complete family of dual-band ProEficient-Plus solutions are offered in compact 3mm x 4mm x 0.9mm packages that feature internal voltage regulation and integrated DC blocks on the RF ports to save valuable PCB space.
Visit: www.anadigics.com