27 June 2013
Aixtron delivers 3x2"CCS MOCVD system to University of Illinois for developing solar nanowires
Deposition equipment maker Aixtron SE of Herzogenrath, Germany says that in second-quarter 2013 it delivered a Close Coupled Showerhead (CCS) metal-organic chemical vapour deposition (MOCVD) reactor (ordered in fourth-quarter 2012) to the University of Illinois at Urbana-Champaign, USA. The 3x2"-wafer system will be used for the development of III-V compound semiconductor based materials and devices, including nanowire-based solar cells and transistors.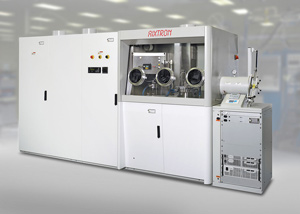 Picture: Aixtron's 3x2" CCS MOCVD system.
"We needed a flexible research platform that can support a variety of programs at the university," says professor Xiuling Li of the Department of Electrical and Computer Engineering and Micro and Nanotechnology Laboratory (MNTL) at Illinois. "The critical issues for us are cost of ownership and process flexibility, which is essential for materials research in a multi-user environment," he adds.
The MNTL at Illinois contains more than 8000 square feet of Class 100 and Class 1000 cleanroom space and recently underwent an $18m expansion that added faculty and student office space.
Tags: Aixtron MOCVD UIUC Nanowires
Visit: www.aixtron.com
Visit: http://mntl.illinois.edu