31 July 2013
Ultratech/Cambridge NanoTech expands operations
Ultratech Inc of San Jose, CA, USA, which designs and manufactures lithography, laser-processing and inspection systems used to make semiconductor devices and high-brightness LEDs (HB-LEDs), has moved its Ultratech/Cambridge NanoTech division to Waltham, MA. The new facility will expand its operations for next-generation atomic layer deposition (ALD) equipment development as well as enabling scientific research.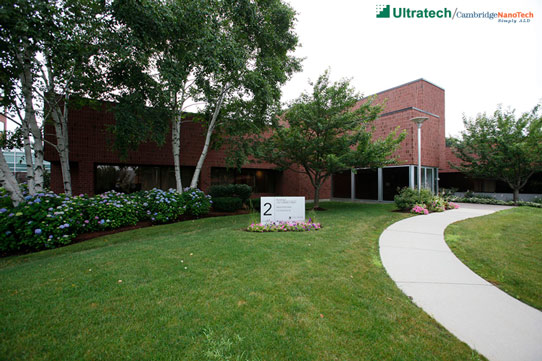 Picture: Exterior of new Ultratech/Cambridge NanoTech facility in Waltham, MA.
Last December, Ultratech acquired the assets of Massachusetts-based ALD equipment maker Cambridge NanoTech Inc, which was spun off from Harvard University's Gordon Lab in 2003 and has since installed hundreds of system in research and manufacturing worldwide. Ultratech says that, after investing in the new facility, Ultratech/Cambridge NanoTech has now enhanced its ability to develop process technology for ALD applications.
Ultratech says that, since ALD provides coatings and material features with advantages compared to other existing techniques for depositing nanometer-thin films, it is expected to be in high demand in volume manufacturing environments for integrated optics, micro-electro-mechanical systems (MEMS), implantable devices in the biomedical sector, and batteries and fuel cells in the energy market.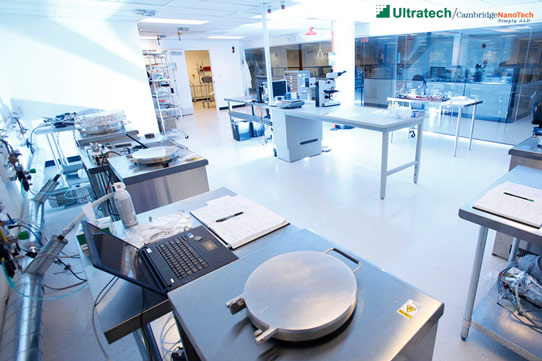 Interior view of new Ultratech/Cambridge NanoTech facility.
"We have retained the same team that Cambridge NanoTech customers have worked with in the past," notes Ultratech's chairman & CEO Arthur W. Zafiropoulo. "The completion of the new facility marks our successful integration of the Cambridge NanoTech assets into Ultratech's nanotechnology product group," he adds. "By investing in the expansion of these operations, we expect to generate increased revenue in new and existing markets. Ultratech, and our ALD unit, Ultratech/Cambridge NanoTech, will continue to focus on technology solutions that support our global customers' advanced product and technology roadmaps."
* Ultratech/Cambridge NanoTech exhibited at the 13th annual International Conference on Atomic Layer Deposition (ALD 2013) in San Diego, CA, USA (28-31 July).
Ultratech acquires assets of Cambridge Nanotech
Tags: Ultratech Cambridge Nanotech ALD
Visit: www.ultratech.com
Visit: www.cambridgenanotechald.com