30 July 2013
Peregrine expands family of UltraCMOS antenna switches
Peregrine Semiconductor Corp of San Diego, CA, USA, a fabless provider of radio-frequency integrated circuits (RFICs) based on silicon-on-sapphire (SOS), is expanding its family of MultiSwitch STeP8 dual single-pole, seven throw (SP7T/SP7T) UltraCMOS antenna switches optimized to solve the carrier aggregation challenges of 4G mobile wireless applications. The PE42128x devices support simultaneous multi-band operation of up to 14 frequency bands while delivering exceptional linearity, insertion loss performance and small size, says the firm.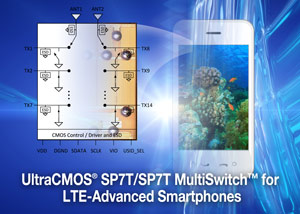 Picture: Peregrine's UltraCMOS SP7T/SP7T antenna switch.
"Peregrine's UltraCMOS process continues to bring innovative solutions to a highly complex and ever-increasing set of challenges in the RF front-end," says CEO Jim Cable. "Our vision has always been to enable the wireless industry to solve the most critical RF demands, where our technology and products not only deliver but thrive. Emerging LTE-Advanced Smartphone platforms require a unique combination of RF performance achievements that only UltraCMOS technology can bring," he adds.
The LTE-A protocol calls for carrier aggregation (or the simultaneous reception of multiple frequency bands) which improves data delivery speed to improve consumer experience. Peregrine's new PE42128x antenna switches are designed to solve the challenges of carrier aggregation. Each of the new MultiSwitch devices features a combination of two SP7T switches in a single IC to support 14 different frequency bands, including simultaneous multiband operation.
With HaRP technology enhancements, the PE42128x devices deliver high linearity with an IIP3 of +75dBm, as well as extremely low insertion loss (0.35dB @ 900MHz; and 0.45 at 1900MHz) and high isolation (38dB at 698-2170MHz; and 33dB at 2500-2690MHz). The switches also feature 2fo and 3fo for LTE of less than -80dBm at 700MHz. High linearity and isolation performance are critical in LTE-Advanced Smartphones to ensure that radio signals don't spill into other bands during multi-band operation.
The flip chip PE42128x switches are available in RoHS-compliant, chip-scale packaging for SMD placement. Samples and volume-production quantities are available.
Tags: Peregrine SOS CMOS SOI RF switches
Visit: www.psemi.com