11 July 2013
Pall unveils new filtration and purification technologies
At the SEMICON West 2013 trade show in San Francisco (9-11 July), Pall Corp of Port Washington, NY, USA has introduced several new filtration and purification technologies that can help device and wafer manufacturers detect certain key contamination levels, and clean and maintain control of their fluids to enhance yields and improve profitability. The new technologies include: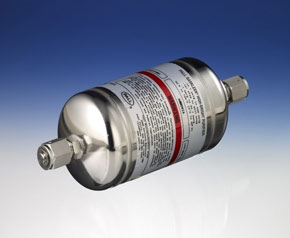 Picture: The new Gaskleen High-Bright purifier.
Long-life gas purifiers for high-brightness LED makers – The Gaskleen High-Bright purifier is a highly efficient product designed to remove molecular contaminants from ammonia used in the manufacture of high-brightness light-emitting diodes (HB-LEDs). Featuring twice the service life of other commercially available technologies, it is claimed, the new purifiers will help ensure consistent, cost-effective delivery of pure ammonia needed to make LEDs with the highest luminosity. Gaskleen purifier assemblies combine Pall's proprietary purification materials and Ultramet-L stainless-steel filter media. They remove moisture and other oxygenated compounds from ammonia to sub-ppb levels, while providing 3nm or 0.4 micron filtration. They also do not release metal ions into the process stream, further increasing luminosity.
Gaskleen Pico1000 analyzer for moisture in nitrogen – The new Gaskleen Pico1000 measures trace moisture in nitrogen process gas streams, with a limit of detection of 1 part per billion (ppb). It is suited to qualifying and certifying ultra-high-purity (UHP) process gas lines, as well as for detecting end-of-life when deployed downstream from Gaskleen purifiers. The robust, compact design of the analyzer is readily portable, allowing users to easily move it around the fab for quick checks of process gas quality at many points. In addition, the Pico1000 consumes up to 70% less process gas (compared to competitive analyzers) yielding a cost saving of 30% over traditional 1ppb moisture analyzers, it is claimed.
Advanced 12nm filtration membrane for wet chemical processing – The new 12nm XpressKleen filter (and all-PFA disposable assemblies) uses an advanced molecular surface tailoring (MST) process to remain wet in critical aqueous chemicals like SC1 and SC2. It also features an improved patent-pending PTFE membrane that stands up to the conditions of new, higher-temperature processes. The new filter maintains critical fluid purity with guaranteed claims for ultra-low metal ion extractables (<3ppb), particle rinse-up and organics. Advanced manufacturing, incorporating statistical process controls, assures repeatable and reliable performance.
100nm filtration medium for point-of-use chemical mechanical planarization – The new CMP StarKleen Nano filter capsule is specifically designed for the classification of ceria and low-solids, colloidal silica CMP slurries. The CMP StarKleen 100nm filter performs 30% better in terms of defectivity reduction than its predecessor for both shallow trench isolation (STI) and barrier copper processes. The product uses Pall's most advanced melt blown technology and is manufactured using a proprietary process that enables greater control of pore sizes and gradient. The capsule is available in multiple lengths, allowing usage over a wide range of flow rates.
New Xpress EZD filter for the latest lithography processes – The Xpress EZD filter represents one of the cleanest point-of-use lithography filters Pall has ever developed to specifically target defects in the semiconductor patterning process at 20nm and below. The product comes with guaranteed low metal (<3ppb), particle and organic extractable levels. It is designed to significantly reduce filter start-up time and tool downtime as well as minimize chemical waste associated with finer lithography filters. The new Xpress EXD is available in Pall's quick-disconnect PhotoKleen EZD 3, EZD-3X and EZD-3XL assemblies employed on the most advanced lithography coater systems.
Tags: Gas purifiers Ammonia HB-LEDs
Visit: www.pall.com/microe_54099.asp