18 July 2013
China's MOCVD activity rebounds with positive LED lighting market outlook
Due to strong demand in the global LED lighting market in first-half 2013, the utilization rate of metal-organic chemical vapour deposition (MOCVD) systems that the major chip makers have installed and debugged is rising, according to statistics in the Gold membership reports of LEDinside (a division of market research firm TrendForce).
Chip prices have been stable this year but, with the increasing capacity of chip makers, it remains to be seen whether LED chip prices will fall in second-half 2013. However, in the long term, only the termination of invalid production capacity in China can help the LED industry return to a balance in supply and demand, says LEDinside.
The rise of the LED lighting market has directly stimulated rapid growth in demand in the upstream chip market this year, with Chinese chip makers that originally specialized in production for display applications actively adjusting their product strategies and boosting the ratio of lighting chips in the product segment. Both HC SemiTek and Silan Azure previously had chips for LED displays as their core business, but now they have adjusted production capacity in response to increasing market demand for LED lighting chips; all newly added MOCVD systems are put into use producing chips for lighting. Overall, growth in the display market has slowed since 2012, making it more competitive and more difficult for manufacturers to make profit, which is also one of the reasons why chip makers have switched to producing LED chips for lighting applications.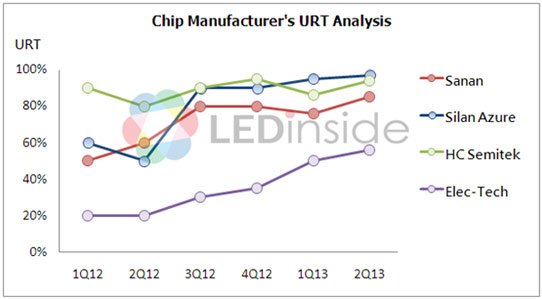 Graphic: MOCVD utilization rates trend (URT) for major Chinese LED chip makers.
Sanan Optoelectronics owns MOCVD 149 systems in total. Currently, more than 90% of these have completed testing and have been put into operation, and the utilization rate exceeds 80%. As of first-half 2013, Elec-Tech International (ETI) has 92 MOCVD systems, 45 of which have been put into use for mass production. The firm is second in China in terms of both the number installed and the number in mass production. Due to having fewer MOCVD systems, those of both HC SemiTek and Silan Azure have already fully come into use. Other chip vendors have also achieved growth in utilization rates for their equipment.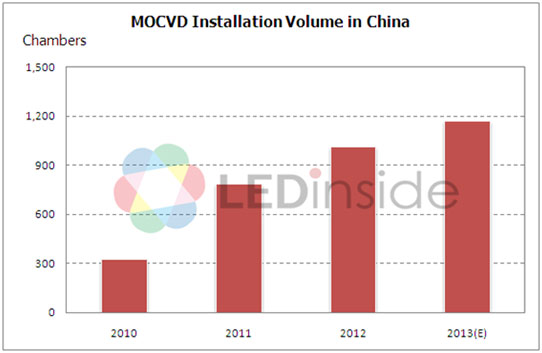 Graphic: Installed MOCVD volume (reaction chambers) in China.
LEDinside says that the growth in MOCVD utilization rates is boosting the confidence of manufacturers to expand production; manufacturers that delayed expansion plans due to the poor market have restarted their programs. According to statistics in LEDinside's Gold membership report, the number of systems in China reached 1013 in late 2012, and it is estimated that in 2013 China will add more than 100 new MOCVD systems (calculated according to the number of chambers).
In view of the current total number of MOCVD systems in mainland China, overcapacity still exists, notes LEDinside. However, looking carefully, many manufacturers have not put their newly added equipment into operation since it was installed, and most systems are old; performance and efficiency are far lower  than that for the new systems. These invalid capacities may exit the market after 2013, which will help the market return to a balance in supply and demand, concludes LEDinside.
China plans to add 1200 MOCVD reactors, including 300 in 2010
Tags: MOCVD MOCVD tool shipments LEDs GaN
Visit: www.LEDinside.com