2 July 2013
Sapphire substrates to face another growth peak, driven by emerging demand from handset market
According to the latest '2013 Global Sapphire Substrate Market Report' published by the LEDinside research department of market research institute TrendForce, sapphire substrate manufacturers are optimistic about the emerging demand for non-LED market applications in 2013 such as handset device applications, silicon-on-sapphire (SOS), and window films. With such prospects in the future, there are still many manufacturers fighting over the non-LED applications, with plans for production despite the low market prices, the firm adds.
Due to oversupply, sapphire substrate quality requirements from LED epiwafer manufacturers have risen, notes LEDinside. Existing LED makers are more willing to use sapphire ingots grown by the Kyropoulos (KY) method, so it has become even more difficult for most new-comers to enter the LED supply chain. Therefore, except for first-tier manufacturers, the utilization rates of most sapphire ingot manufacturers have been below 50%. However, since the introduction of sapphire for camera lenses in Apple's iPhone5, demand for sapphire substrates from non-LED applications has begun digesting part of the excess production, bringing the sapphire substrate industry into a virtuous cycle.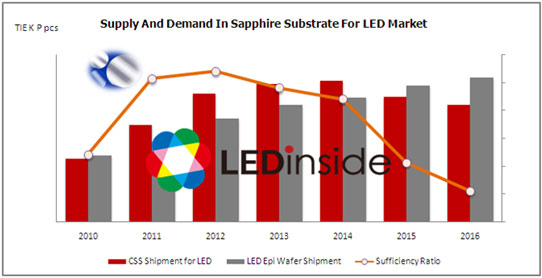 Estimated gap between supply and demand for sapphire substrates in LED applications.
LEDinside estimates that the oversupply ratio for sapphire substrates in 2013 has been as high as 18% compared to demand from LED epiwafer manufacturers. However, it does show some sign of convergence compared to the 24% oversupply ratio in 2012. Looking ahead to the next few years, the issue of oversupply will not be solved anytime soon, says LEDinside, yet sapphire substrate manufacturers remain optimistic about non-LED market applications in 2013 (such as SOS, window films, and handset device applications) such that they have planned production expansions, with the hope that emerging non-LED applications can digest the production capacity. In addition to demand for camera lenses, if in the future the cover glass of smart-phones is replaced by sapphire, this will create enormous demand, which may lead to a shortage in sapphire substrate supply, reckons the firm.
Sapphire substrate price decline slows as LED chip makers' utilization rates rise
Benefiting from demand from the lighting and backlight markets in first-half 2013, LED chip makers have raised their utilization rates, boosting demand for sapphire substrates. Price declines for 2-inch and 4-inch sapphire substrates have slowed in first-quarter 2013, while there are even some signs of certain low market prices rebounding slightly, says the report. For example, the price for 2-inch conventional sapphire substrate (CSS) has returned to US$6.8-7, while the price for 4-inch CSS has stayed steady at US$30-35. Although LED chip makers have consistently increased their 4-inch sapphire substrate production ratio and hence increased the demand for 4-inch sapphire substrate, there is room for sapphire substrate manufacturers to make a profit, says LEDinside. The recent 4-inch sapphire substrate price has hence remained stable.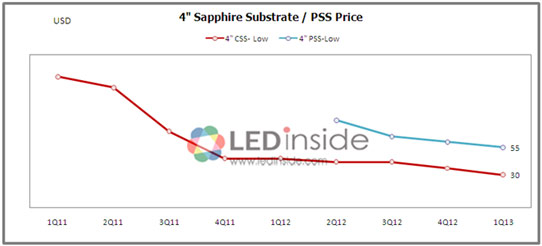 Price trends for 4-inch conventional sapphire substrates (CSS) and patterned sapphire substrates (PSS).
LEDinside comments that the sapphire substrate industry's large production expansion over the last two years caused the oversupply situation in the industry. However, it is still difficult to solve the oversupply problem in the short term if sapphire substrate capacity is digested only by LED applications. Non-LED market demand has hence generally been attracting much attention. As can be seen in the expansion plans of every sapphire substrate manufacturer in 2013, most are increasing capacity for non-LED applications. Generally speaking, mergers and acquisitions are still happening in the sapphire substrate industry, notes LEDinside. However, with non-LED market demand rising, there might be a chance of seeing another boom in the sapphire substrate market, as happened in 2010, the firm reckons.
Sapphire substrate oversupply signals difficult times for second-tier manufacturers
Tags: Sapphire substrates LEDs
Visit: www.LEDinside.com