23 July 2013
Anadigics launches 1.2GHz GaAs & GaN amplifier family for DOCSIS 3.1 CATV infrastructure network upgrade
Broadband wireless and wireline communications component maker Anadigics Inc of Warren, NJ, USA has introduced a family of CATV infrastructure products that is optimized for the proposed data over cable service interface specification (DOCSIS) system standard version 3.1. The solutions are optimized to help CATV service providers increase their system bandwidth, allowing them to offer additional digital services, including high-definition television (HDTV) and video on demand (VOD), and enable higher-speed data services. The first product in the family is the ACA2429 gallium nitride (GaN) power doubler, which is claimed to be the industry's first 1.2GHz surface-mount line amplifier.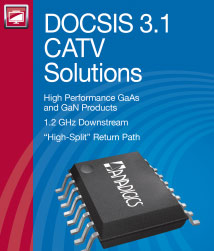 "By helping manufacturers achieve industry-leading performance and reliability in new 1.2GHz downstream equipment, we are enabling MSOs to take advantage of this upcoming standard," says Tim Laverick, VP of infrastructure products.
Anadigics' newest generation of infrastructure products will include power doubler and push-pull line amplifiers, Edge QAM amplifiers, reverse path amplifiers, and optical receivers. They are designed to support outstanding picture quality and higher data rates by offering exceptional linearity and noise figure, ensuring high signal fidelity over extended frequencies up to 1.2GHz with a 'high-split' return path. The firm says that its DOCSIS 3.1 solutions will also deliver higher output power levels to achieve drop-in upgrades to existing hybrid fiber coax (HFC) infrastructure systems. The new product family will leverage Anadigics' proven high-linearity GaAs process (which is claimed to have exceptional reliability and mean-time-to-failure) along with GaN high-electron-mobility transistor (HEMT) technology (for high output power and optimum power efficiency).
The ACA2429 1.2GHz GaN power doubler combines Anadigics' MESFET technology with a GaN HEMT output stage, delivering 25dB gain with +60dBmV output power and only 10W of power consumption in a proven surface-mount package. The line amplifier offers what is claimed to be exceptional bit-error rate (BER), composite triple-beat (CTB), composite second-order (CSO), cross-modulation, and carrier-to-intermodulation noise (CIN) characteristics for optimal performance in a fully loaded spectrum.
Tags: Anadigics
Visit: www.anadigics.com