22 January 2013
International Rectifier founder Eric Lidow passes away
Power semiconductor device maker International Rectifier Corp (IR) of El Segundo, CA, USA has announced that co-founder Eric Lidow passed away on 18 January.
Born in Vilnius, Lithuania (then part of Russia) over 100 years ago in 1912, Lidow gained a Masters Degree in electrical engineer at the Technical University of Berlin in 1937, before emigrating to New York that year with just $14 in his pocket. In 1939 he moved to Los Angeles and in 1940 he co-founded Selenium Corporation of America using borrowed equipment and working in the back of a photographic studio. Selenium Corporation of America supported the war effort with power electronics and was sold to Sperry Corp in 1946. 
Together with his father Leon (brought to the USA in 1946), Lidow started up International Rectifier in Inglewood, CA in 1947. He was CEO until 1995, after which he was chairman of the board of directors until his retirement in May 2008.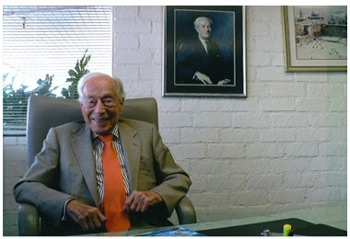 Picture: Eric Lidow.
Lidow played a leading role in the development and commercialization of several technologies relating to photovoltaic cells, selenium photocells and rectifiers, silicon controlled rectifiers (CSRs), power germanium rectifiers and power MOSFETs. Over the course of more than six decades, Lidow transformed International Rectifier from a start-up company that developed selenium photoelectric cells and selenium rectifiers into firm that now produces thousands of analog, digital and mixed signal integrated circuits and other power management technologies and products. IR says that it retains its number 1 position in the power MOSFET market. In addition, in late 2008 IR announced its 'GaNpowIR' power device technology platform based on proprietary gallium nitride (GaN)-on-silicon epitaxy.
Lidow was a Life Associate of the California Institute of Technology (Caltech), a Life Member of the Institute of Electrical and Electronics Engineers (IEEE) and a Life Trustee of the Los Angeles County Museum of Art. He also held an Honorary Doctorate from Technion - Israel Institute of Technology.
"Eric was a highly respected pioneer in the power semiconductor industry," comments president & CEO Oleg Khaykin. "The development and growth of International Rectifier was a great source of pride to him and, as we continue to grow as a company, the legacy of Eric's leadership during his 60 years at IR will remain."
Tags: International Rectifier GaN-on-silicon power semiconductor
Visit: www.irf.com