20 February 2013
TriQuint's introduces new MMPAs for next-gen global 3G/4G smartphones
RF front-end component maker and foundry services provider TriQuint Semiconductor Inc of Hillsboro, OR, USA has introduced two new high-performance Multi-band, Multi-mode Power Amplifiers (MMPAs). The highly integrated MMPAs support more frequency bands in 20% less board space than discrete architectures, and have already captured design wins in next-generation 3G/4G smartphones, says the firm.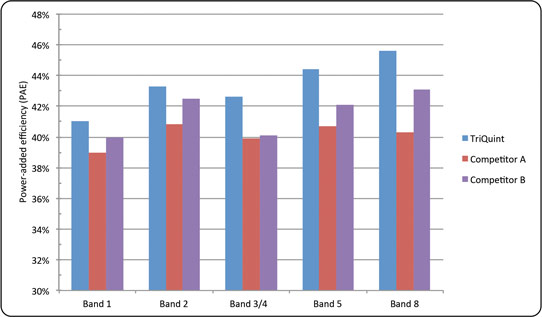 Picture: TriQuint's TRIUMF TQM7M9050 MMPA achieves best-in-class power added efficiency (PAE) across several popular bands. This means the amplifier consumes less power, delivering longer battery life and extended operating time for today's mobile devices. Source: TriQuint lab results.
"Customers have told us they will be migrating to our new MMPAs because these modules deliver longer battery life and extended operating time," said Shane Smith, VP of Global Marketing for Mobile Devices. "The versatile design of TriQuint's new MMPAs also allows manufacturers to use a common platform to release new products at a faster pace, while controlling design and manufacturing costs."
Aligned with a leading chipset supplier's reference design, the TRIUMF TQM7M9050 supports five 3G/4G bands in addition to quad-band GSM/EDGE. The 3G/4G PA achieves nearly 46% PAE, says the firm. The new TRIUMF TQP9058, is almost identical, except that it features a different approach to controlling output power for the 2G PA that is compatible with reference designs from several other major chipset manufacturers. "We've expanded our product portfolio to align with multiple chipset vendors. In doing so, we've broadened our ability to serve several key customers," added Smith.
Both MMPAs feature a two-gain-state WCDMA PA with low and high power modes to maximize talk time over the entire range of operating conditions. Each is fully matched with a coupler and band distribution switches. At 5mm x 7mm, the highly integrated modules provide an ultra-small form factor to shrink overall product footprints.
TRIUMF MMPA TQM7M9050 and TQP9058 are currently sampling. Visit TriQuint in Booth 6E-84 at the 2013 Mobile World Congress in Barcelona on 25-28 February for more information.
Visit: www.triquint.com