18 February 2013
Oclaro reports improved quarterly results
Optical component, module and subsystem maker Oclaro of San Jose, CA, USA has announced financial results for its fiscal second-quarter 2013 (ended 29 December 2012), which includes the first full quarter of operating results from Opnext (merged with Oclaro on 23 July). Results for fiscal Q1/2013 include about ten weeks of operating results of Opnext since the closing of the merger. Results for fiscal Q2/2012 a year ago were 'pre-merger' Oclaro and did not include the operating results of Opnext at that time. So, any year-to-year and successive quarter comparisons could not be made with a like-for-like company structure.
Fiscal Q2/2013 revenue was $159.5m. This compares with fiscal Q1 revenue of $148.8m (without Opnext's contribution). However, pro forma combined revenue for Q1 (including Opnext for the full quarter) was $160.2m.
On a non-GAAP basis, gross margin was 15.2%, up from 13.2% in fiscal Q1. Operating loss was $23.1m, cut by 22% from $29.4m. Excluding a $25m gain on the sale of assets related to Oclaro's interleaver product line and thin-film filter business, net loss was $25.2m. This compares with a net loss of $31.1m in fiscal Q1 (which excluded a gain on bargain purchase of $39.5m related to the acquisition of Opnext). Adjusted EBITDA was negative $13.2m, an improvement on negative $20.6m. During the quarter, cash, cash equivalents and restricted cash rose slightly, from $94.4m to $96m.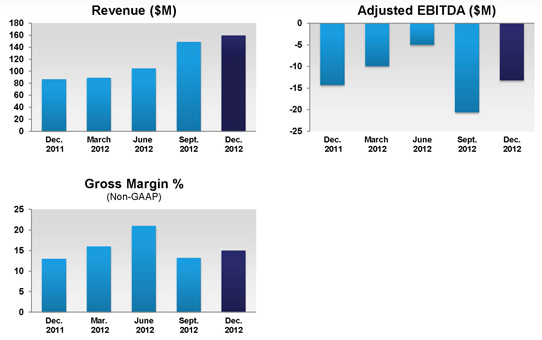 Picture: Oclaro's revenue, gross margin and adjusted EBITDA for fiscal Q2/2013.
"Our financial results for the second quarter of fiscal 2013 demonstrate the progress we are making after the merger," commented chairman & CEO Alain Couder. "Our revenues were at the top-end of guidance and we have successfully executed to the planned synergies on schedule." Oclaro delivered nearly $10m in quarterly synergies ($40m on an annualized basis), ahead of the previous December-quarter target of $9m.
"We also took action to strengthen our balance sheet," said Couder. On 23 January, Silicon Valley Bank (SVB) and Wells Fargo entered into a joinder agreement, following which SVB agreed to become an additional lender to Oclaro. The lenders agreed to increase Oclaro's revolving credit facility from $50m to $80m.
"Looking ahead, market and economic conditions remain uncertain in a typically softer March [2013] quarter," said Couder. For Q3/2013 (to end-March), Oclaro expects revenue of $140-155m, non-GAAP gross margin of 10-14%, and adjusted EBITDA of negative $25m to negative $13.5m. The midpoint of Oclaro's Q3 forecast range would be somewhat down on performance in fiscal Q2 and approximately equal to that of Q1. "Our efforts will remain focused on reducing operating expenses and improving margin, as well as capitalizing on our new product introductions and strong customer relationships to maximize revenues," Couder stated. 
In the analysts' conference, Couder also gave his further thoughts on market conditions as well as an update on the company moving the manufacture of products from its Shenzhen plant to a contract manufacturer in Malaysia.
"Regarding the optical communication market in North America, we have a cautiously optimistic outlook based on the recent pickup," said Couder. "In China, we have a conflicting report from various customers. There is no sign of recovery in Europe, we see a slight decrease in Japan, and in the industrial and consumer market the market is flat. In summary, we are still looking for tangible sign of a system recovery," he added.
"An important part of our strategy is to maintain a growth of our topline and improve our gross margins, and we do that through product innovation," Couder continued. "Several new products are starting to shift and demonstrate the acceleration of new product line. For instance in 100G coherent, we ship 60 copies of the new 100G coherent module, which [generated] about $2m in revenue. We accelerated the shipment of the 100G lithium niobate modulator, and that was also something important, and the new generation of 100G CFP is ramping production this quarter," he added.
"We are moving manufacturing from Shenzhen to Malaysia," Couder noted. "The first product was produced in Malaysia, fully qualified by customer and shipped by customer. This means that, in the future, we'll be fully able to rely on two strategic contract manufacturers, Fabrinet and Venture, and this will give us the ability to weather the future cycle of the telecom market."
Also in the analysts' conference, chief financial officer Jerry Turin gave a breakdown of revenue by product category. "Our 40G and 100G module revenues were up 16% in the quarter as we recovered from a shortage of modulators in the prior quarter." Transmission components were down $5.1m, largely due to a customer previously building up an inventory of one component type. Amplifiers and filters were down $3.5m, primarily due to the sale of Oclaro's thin-film filter business and the Interlever product line during the December 2012 quarter. Sales of thin-film filters and Interlevers prior to the sale were $2.5m in that quarter.
Oclaro's other product categories were relatively consistent quarter-on-quarter. From a customer point of view, Cisco, Alcatel-Lucent and Huawei were all in the 10-11% range. "We've not seen a real tangible evidence of a pickup in market conditions, even though there are positive signs like carrier CapEx spend announcements, and order flow in the first four weeks of this quarter was higher than the first four weeks of the prior quarter," said Turin. "We continue to see a degree of uncertainty in the market at this time."
Oclaro's quarterly earnings slip further into red

Oclaro's revenue almost back to pre-flood levels
Oclaro and Opnext complete merger
Oclaro's growth constrained by Thailand flood recovery and Shenzhen plant stoppage
Visit: www.oclaro.com
By Matthew Peach, Contributing Editor