20 February 2013
AV Solar Ranch One plant achieves 100MW milestone; to reach 230MW this year
First Solar Inc of Tempe, AZ, USA, which manufactures thin-film photovoltaic (PV) modules based on cadmium telluride (CdTe) as well as providing engineering, procurement and construction (EPC) services, says that the Antelope Valley Solar Ranch One project has achieved a peak generating capacity of 100MWAC connected to the electrical grid. The project, which is under construction in northern Los Angeles County, is currently California's largest operating photovoltaic (PV) power plant and will have a generating capacity of 230MWAC upon completion (expected later this year).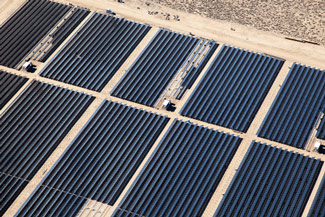 Picture: AV Solar Ranch One, California's largest operating PV power plant, under construction in LA County.
Initial construction on the project began in September 2011 and module installation started in June 2012, providing an average of 400 jobs during the construction phase. Power from the plant is being purchased by Pacific Gas and Electric Company under a 25-year contract.
"We especially appreciate the support of LA County's Fifth Supervisorial District staff and the departments of Regional Planning and Public Works for their contributions to making this project a success," says Lou Moore, First Solar's senior VP of engineering, procurement and construction (EPC). "Unlike traditional power plants, the modular nature of PV power projects enables us to quickly add substantial volumes of clean energy to the grid throughout the construction process. This shorter 'time to energy' is another key advantage of PV solar electricity," he adds.
When fully operational, the facility will generate enough power for 75,000 average California homes and will displace about 140,000 tons of carbon dioxide per year (equivalent to taking 30,000 cars off the road on an annual basis).
First of 3.8 million First Solar CdTe PV panels installed at Antelope Valley Solar Ranch One in Los Angeles County

LA County approves First Solar to start module installation at AV Solar Ranch One
Tags: First Solar Thin-film photovoltaic CdTe
Visit: www.firstsolar.com