18 December 2013
Peregrine ships 75Ω RF switch for TVs, set-top boxes and DVRs
Peregrine Semiconductor Corp of San Diego, CA, USA, a fabless provider of radio-frequency integrated circuits (RFICs) based on silicon-on-sapphire (SOS) and silicon-on-insulator (SOI), has introduced the UltraCMOS PE42721 75Ω RF switch for designers of digital TV (DTV) tuner modules, cable TV (CATV) signal switching and distribution systems, multi-tuner digital video recorders (DVRs) and set-top boxes.
The switch is suitable for geographic markets - such as China, Japan, Korea and Latin America - where broadband-TV devices must accommodate multiple RF inputs for cable, satellite and terrestrial reception while avoiding interference between these signals, says the firm. To achieve this, the PE42721 switch features isolation so high that only this one tuner chip is needed in each device, reducing the overall tuner footprint and cost of the system. The switch also delivers what is claimed to be best-in-class linearity and electrostatic-discharge (ESD) performance, because it pairs the high isolation with low insertion loss, which improves the signal fidelity by reducing the signal-to-noise ratio (SNR).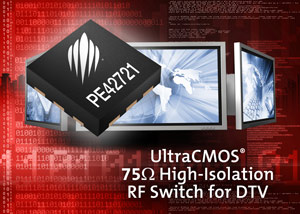 "This latest extension of Peregrine's 75Ω switch portfolio offers broadband consumer-device and infrastructure designers a cost- and space-saving RF switch that prevents signal distortion," says Mark Schrepferman, director of the commercial and industrial product line with Peregrine's High Performance Solutions business unit.
The PE42721 is a single-pole, double-throw (SPDT) switch that balances the requirements for high isolation and low insertion loss, while also reducing noise figure in broadband TV systems that require switching between two RF sources. The new switch provides isolation of greater than 55dB across the entire, broad frequency range from 5MHz to 2.2GHz. The switch features video feedthrough of 4mVpp for reduced distortion. In addition, it delivers low insertion loss (0.4dB @ 220MHz; 0.5dB @ 870MHz; and 0.65dB @ 2.2GHz), which enhances overall system performance by reducing the noise figure (NF) of the RF receive path and improving the SNR. Also, the high linearity (CTB/CSO of -99/-105dBc) improves TV systems' dynamic range. The PE42721 supports 1.8V and 3.3V control logic, and high ESD performance of 3kV HBM on RF pins to GND 2kV. Its package is an RoHS-compliant, 12-lead QFN measuring 3mm x 3mm.
Samples and volume-production parts are available, priced at $0.45 each in 10,000-unit orders. Evaluation kit boards are $95.
Peregrine introduces new RF switch
Visit: www.psemi.com