17 December 2013
Mitsubishi Electric to launch low-power 4-wavelength integrated 100Gbps EML-TOSA
Tokyo-based Mitsubishi Electric Corp has developed a laser diode-transmitter optical subassembly (TOSA) that enables 100Gbps optical transmission in one fiber using four-channel wavelength-division multiplexing (WDM), which should help to downsize 100Gbps communication facilities and expand high-speed 100Gbps optical transmission networks.
Featuring four 25Gbps electro-absorption modulators with a laser diode (EML, emitting in the 1.3-micron wavelength band) and an optical multiplexer integrated in one 8.8mm × 26.5mm × 5.6mm package, the FU-401REA TOSA is claimed to be one of the world's lowest-power and most compact EML-TOSA solutions for IEEE 100GBASE-LR4 applications.
As 10Gbps optical network interfaces give way to 40Gbps and 100Gbps interfaces, installations in confined spaces are requiring the use of smaller and lower-power equipment. The need for downsized, low-power EML-TOSAs led to the development of the FU-401REA TOSA, which will help to meet the demand for smaller equipment and should hence expand the market for 100Gbps EML-TOSAs, the firm reckons.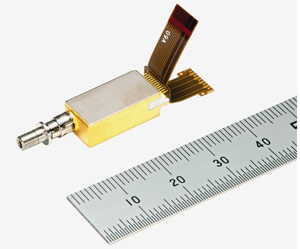 Picture: Mitsubishi Electric's new FU-401REA 100Gbps EML transmitter optical subassembly.
By integrating four individual TOSAs into one package, the footprint is reduced by 75% compared to the firm's existing FU-412REA model. The package size complies with common specifications for small CFP2 optical-transceiver modules. The new device also contributes to improved transceiver module efficiency by adopting flexible printed wiring board featuring easy mounting.
In addition, the new EML chip can operate at up to 15°C higher than the existing FU-412REA. Cooling power is hence reduced by 50%, helping to lower the operating power of the optical-transceiver module. Operating power is 2W maximum.
With an output power of -2dBm to +2dBm, maximum transmission distance is 10km for local-area network LAN-WDM) operation.
The FU-401REA will be exhibited at the Optical Fiber Communication Conference and Exposition (OFC 2014) in San Francisco, CA, USA (11-13 March). Shipments will begin on 1 April.
Mitsubishi Electric to launch first 40G EML-TOSA compliant with XLMD2-MSA
Mitsubishi Electric's new 10Gbps EML-TOSA transmitter module cuts power consumption by 50%
Tags: Mitsubishi Electric EML TOSA
Visit: www.mitsubishielectric.com/products/devices/