2 December 2013
Sapphire substrate makers expanding production to meet LED lighting and smartphone demand
Spurred by demand from the LED lighting and mobile device markets, sapphire substrate manufacturers have been actively expanding their production capacity, according to the report 'Global Sapphire Substrate Market 2013' from LEDinside, a subsidiary of market research firm TrendForce. For example, the top five sapphire ingot manufacturers have seen monthly production capacity for 2-inch-equivalent sapphire substrates grow by 75% to 7800Kmm compared to 2012.
LED industry development has been driven by high demand from the lighting market, especially for LED bulbs, tubes and MR16 lamps. To meet this demand, major LED chip makers - including Korea's Seoul Viosys, Taiwan's Epistar and China's San'an Optoelectronic and HC Semitek - still have expansion plans for 2013-2014. Major chip makers are also continually increasing their production capacities on 4-inch wafers, leading to 4-inch wafers having a 40% share of production capacity in 2013 and an expected 43% in 2014.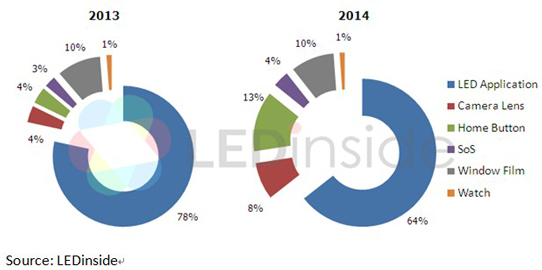 Picture: Share of the sapphire substrate market for various LED and non-LED applications.
Among non-LED applications, handheld devices represent the strongest demand. Apple has introduced sapphire material into the camera lens of the iPhone5 and iPhone 5S smartphones, and into the 5S' home buttons with the entry of fingerprint identification feature. LG is also following this latest technology trend and has introduced a sapphire camera lens into its newest smartphone, the LG G2. This may drive other smartphone makers to use the material, notes LEDinside. The market research firm hence estimates that the non-LED share of the sapphire substrate market will reach 36% in 2014, including handheld devices perhaps reaching as much as 31%.
Sapphire substrates to face another growth peak, driven by emerging demand from handset market
Sapphire substrate oversupply signals difficult times for second-tier manufacturers
Tags: Sapphire substrates LEDs
Visit: www.LEDinside.com