11 December 2013
CPV installations to grow 750% from 160MW in 2013 to 1362MW in 2020
After years of slow progress, the global market for concentrated photovoltaic (CPV) systems is entering a phase of explosive growth, with worldwide installations set to expand at double-digit percentages every year through 2020, rising by 750% from 160MW in 2013 to 1362MW in 2020, forecasts IHS Inc in its 'Concentrated PV (CPV) Report – 2013'.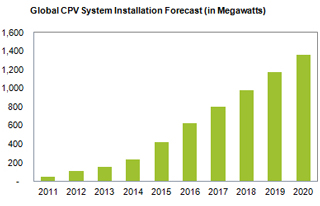 CPV technology employs lenses or mirrors to focus sunlight onto solar cells. However, while this allows more efficient PV energy generation, the use of the additional optics has also driven up the cost of CPV compared to conventional PV installations, limiting acceptance of concentrated solar solutions, notes the market research firm.
Nonetheless, the situation is changing rapidly as advancements in CPV technology reduce costs. "What is happening in today's CPV market is very similar to that of the overall PV space in 2007, beset by high costs and an uncertain outlook," says photovoltaic analyst Karl Melkonyan. "However, the CPV market in 2013 is on the verge of a breakthrough in growth," he adds. "Costs for CPV have dropped dramatically during 2013 and are expected to continue to fall in the coming years. Furthermore, when viewed from the perspective of lifetime cost, CPV becomes more competitive with conventional PV in large ground-mount systems in some regions."
No trouble with the curve
Prices for CPV are falling as manufacturing processes progress down the learning curve. The average installed pricing for high-concentration PV (HCPV) systems is estimated to have decreased by 25.8% from $3.54 per watt in 2012 to $2.62 per watt in 2013. The decline is being driven by rising volumes and improved system efficiencies.
IHS forecasts that prices will slide further, at an annual compound rate of 15% from 2012 to $1.59 by the end of 2017.
Lifetime costs
In the conventional PV market, cost analysis predominantly focuses on the module price-per-watt and the total installed cost-per-watt. Comparing the installed cost-per-watt of conventional PV to CPV, the cost of conventional PV is significantly lower, notes IHS.
This is mainly due to the higher panel cost of CPV, given that CPV suppliers have yet to achieve the economies of scale, as well as a better balance of system and installation cost, because of the required tracker system.
Conventional PV certainly has a lower upfront cost and appears to be a more attractive option based on upfront system costs. However, this does not take into account the overall cost of the system over its lifetime. Nor does it consider the energy yield of the system. Instead, it is important to compare the levelized cost of electricity (LCOE), IHS believes. The LCOE estimates the cost of generating electricity at the point of connection, dividing the total lifetime system costs by the total energy produced over the system's lifetime. Such a calculation is also necessary in order to compare the competitiveness of PV and CPV with that of conventional power generation.
Using the LCOE, IHS predicts that system costs for HCPV will remain low enough to compete with conventional PV for large commercial, ground-mount systems in target regions. These are the areas with hot, dry climates and high daily irradiation at more than 6.0 kilowatt-hours per square meter of direct normal irradiation (DNI), the firm concludes.
Tags: CPV
Visit: www.ihs.com