5 December 2013
Ascent Solar's flexible PV modules selected for Volvo Pure Tension Pavilion project
Ascent Solar Technologies Inc of Thornton, CO, USA, which makes lightweight, flexible copper indium gallium diselenide (CIGS) thin-film photovoltaic modules that it integrates into its EnerPlex series of consumer products, has announced its proud involvement in the Volvo Pure Tension Pavilion project, for which it lightweight modules have been selected for integration into the pavilion's tensioned mesh membrane structure.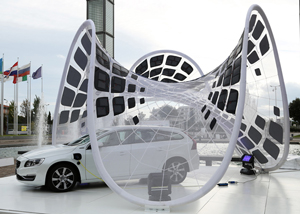 Picture: The Volvo Pure Tension Pavilion integrated with Ascent's solar modules.
The pavilion is a portable, solar-powered tensile membrane structure made for the launch of the new Volvo V60 plug-in hybrid electric car, which not only charges the car but also flat-packs to fit in the trunk of the car and assembles in less than one hour. The structure of the pavilion is highlighted by its unusual form and mesh skin embedded with a total of 252 7" x 7" lightweight flexible photovoltaic panels throughout. The pavilion is now on a 9 month multi-city promotional tour that has started in Milan and will end at The Plan Magazine's annual Perspective event in Venice next summer.
Ascent says that its solar modules are able to be integrated into the pavilion's tensioned mesh skin due to their lightweight and flexible construction, allowing them to be deployed in ways that are not possible using traditional crystalline solar (which is both rigid and heavy) or any other non-flexible thin-film solar modules.
"Ascent constantly aims to provide innovative solar-integrated solutions which bring the incredible power-generating capabilities of our technology closer to consumers who can use them in their everyday lives," says John Maslanik, Ascent's manager of business development. "The Volvo Pavilion project shares the goal of bringing solar into the realm of everyday use."
Tags: Ascent Solar EnerPlex CIGS
Visit: www.AscentSolar.com