19 August 2013
Veeco launches GENxplor MBE system for compound semiconductor R&D
Epitaxial deposition and process equipment maker Veeco Instruments Inc of Plainview, NY, USA has introduced the GENxplor molecular beam epitaxy (MBE) deposition system, which is said to be the industry's first fully-integrated MBE system for the compound semiconductor R&D market. The GENxplor creates epitaxial layers on substrates up to 3" in diameter and is suitable for research on a variety of materials including gallium arsenide (GaAs), nitrides, and oxides.
"The compound semiconductor R&D community asked for a more affordable, flexible, and easy-to-use MBE system and Veeco has delivered with the GENxplor," comments Jim Northup, Veeco's VP & general manager. "We have repackaged Veeco's industry-leading MBE technology into a novel 'all-in-one' design that combines the reactor and electronics on a single frame. It will change the way researchers use MBE," he reckons.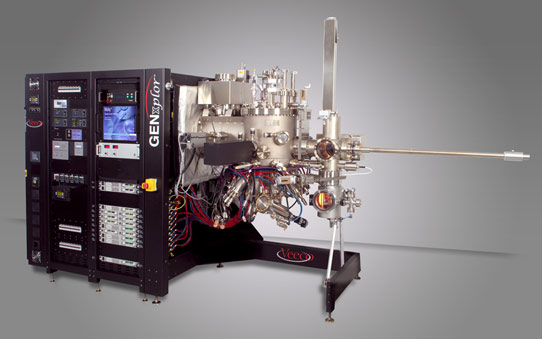 Picture: Veeco's new GENxplor R&D MBE system.
The GENxplor uses Veeco's proven GEN10 growth chamber design and incorporates process flexibility that makes it suitable for materials research on emerging technologies such as UV LEDs, high-efficiency solar cells, and high-temperature superconductors. Its efficient single-frame design combines all vacuum hardware with on-board electronics to make it up to 40% smaller than other MBE systems, it is reckoned, saving lab space. Because the manual system is integrated on a single frame, installation time is reduced, says the firm. The GENxplor's open architecture design also improves ease-of-use, provides convenient access to effusion cells, and allows easier serviceability compared with other MBE systems, the firm adds. Coupled with Veeco's recently introduced retractable sources, the GENxplor system facilitates oxide materials research.
Veeco says that, in recognition of the growing influence and importance of China in the field of MBE research, it is launching the GENxplor at this week's China MBE Conference in Shanghai.
Visit: www.veeco.com/genxplor