15 August 2013
Keithley introduces SMU instrument with interactive touchscreen display
Electrical test instrument and system provider Keithley Instruments Inc of Cleveland, OH, USA has introduced what it says is the first benchtop source measure unit (SMU) instrument with a capacitive touchscreen graphical user interface, the Model 2450 SourceMeter SMU. According to the firm, the Model 2450's design offers a fundamentally new way for users to interact with test and measurement instruments. It is based on the firm's 'Touch, Test, Invent' design philosophy.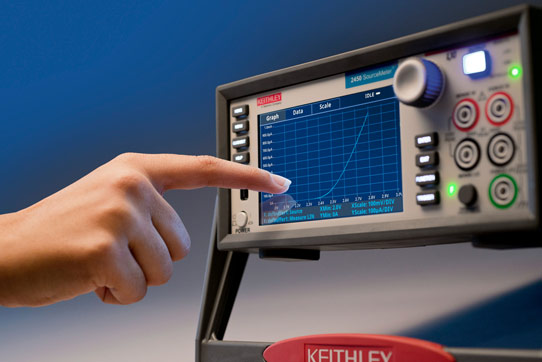 Picture: Model 2450 SourceMeter SMU.
This new design philosophy reflects recent market changes, including shrinking product design/development cycles and fewer personnel devoted exclusively to test engineering tasks. At the same time, the profile of the typical instrument user has evolved. To accommodate these market and user changes, the Model 2450 incorporates numerous ease-of-use features, including a context-sensitive help function, 'Quickset' modes that speed instrument configuration, and on-screen graphing capabilities that quickly turn raw data into usable results.
Model 2450 combines the functionality of a power supply, true current source, 6-1/2-digit multimeter, electronic load, and trigger controller in one tightly integrated, half-rack instrument. With all of these capabilities, the Model 2450 integrates the capabilities of I-V systems, curve tracers, and semiconductor analyzers at a fraction of their cost.
Tags: Keithley Semiconductor test instrument
Visit: www.keithley.com