5 August 2013
Existing LED oversupply to continue through 2016 as suppliers add capacity
Despite a major surplus in the light-emitting diode (LED) market, the top suppliers are increasing their capital spending and production because of government incentives and in order to cash in on an expected boom in the lighting business, according to market research firm IHS.
Being essential for LED manufacturing, global shipments of metal-organic chemical vapor-deposition (MOCVD) systems are expected to rise by 17% in 2013, reckons Alice Tao, senior analyst, LEDs and lighting for IHS. This will be the first annual growth for the MOCVD market since 2011, and will represent a major turnaround from the 70% plunge of 2012 (see Figure 1).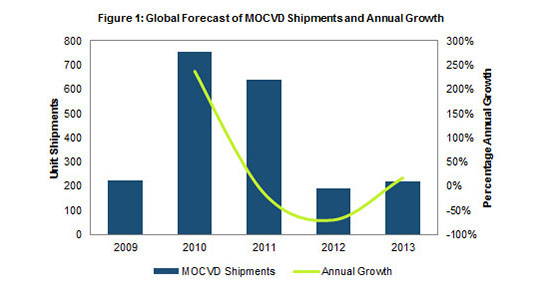 At the same time that growth is being projected, factory utilization rates are increasing for major LED companies in Asia. In South Korea, for example, utilization rose to about 75% in second-quarter 2013, up from 60% in 2012. Meanwhile, utilization for some Taiwanese and Chinese firms reached 90% in Q2.
The capital spending and boost in utilization rates alike are occurring despite a glut of supply that has plagued the market since 2010. The surplus began when LED suppliers made major investments in capacity in 2010 and 2011, stemming from local governments in China subsidizing MOCVD purchasing, notes IHS. Governments are helping to fund the procurement of MOCVD systems by up to 80% of the total price of the equipment.
Many of these companies are also increasing production in the belief that they can capitalize on upcoming rapid growth in the market for LEDs used in lighting, adds IHS. "The global market for LED lighting is expected to double during the next three years," notes Tao. "The prospect of this massive growth is irresistible to LED suppliers, who don't want to be caught short of supply during this expected boom. But, given the rising investments in manufacturing equipment, the acute LED oversupply already in existence is expected to continue through 2016."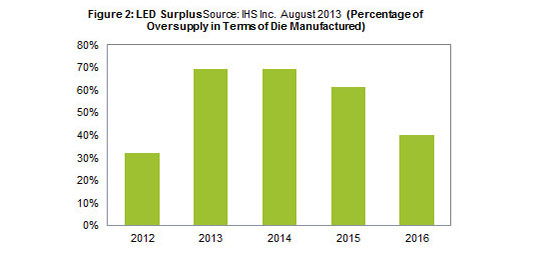 Measured in terms of manufactured die, the supply of LEDs is expected to exceed demand by 69% in 2013 and in 2014 (see Figure 2). The glut will decline slightly to 61% in 2015 and then to 40% in 2016.
HIS cites the major suppliers of LED as including San'an Optoelectronics and Elec-tech of China, Samsung and Seoul Semiconductor of South Korea, Epistar of Taiwan, Philips Lumileds of the USA, and Osram of Germany.
Visit: www.ihs.com