12 August 2013
Emcore's revenue falls 20.8% quarter-on-quarter
For fiscal third-quarter 2013 (to end-June), Emcore Corp of Albuquerque, NM, USA, which makes compound semiconductor-based components and subsystems for the fiber-optic and solar power markets, has reported revenue of $33.5m. This is down 20.8% on $42.3m last quarter and 18.5% on $41.1m a year ago (and below the guidance of $35-39m).
| | | | | | |
| --- | --- | --- | --- | --- | --- |
| Fiscal | Q3/2012 | Q4/2012 | Q1/2013 | Q2/2013 | Q3/2013 |
| Revenue | $41.1m | $47.5m | $49.3m | $42.3m | $33.5m |
Fiber Optics revenue was $21.6m (64% of total revenue), down 6.8% on $23.1m last quarter (55% of total revenue) and 16.5% on $25.8m a year ago (63% of total revenue).
Photovoltaics revenue was $11.9m (36% of total revenue), down 37.8% on $19.1m last quarter (45% of total revenue) and 21.8% on $15.3m a year ago (37% of total revenue). This was due mainly to a large international order (worth a few million dollars) that was expected to ship during the quarter, but approval was not received prior to end-June (the order has subsequently shipped to the customer, and revenue should be recognized in the September quarter).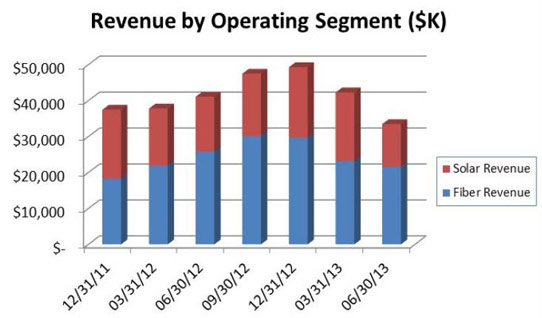 Overall gross margin was 12.1%, up from 10.7% a year ago but down from 18.5% last quarter. Although up from the 13% a year ago, Photovoltaics' gross margin of 28.6% is down from 32.5% last quarter. Fiber Optics' gross margin has fallen further, from 9.3% a year ago and 7% last quarter to 3% (although, without an excess on obsolete inventory charge of almost $1m, this would have been closer to 7%). It also incurred a negative impact of about $2m from the tunable XFP transceiver product line through lower-than-targeted yield during production ramp-up.
"We experienced lower-than-expected orders in our broadband [cable TV] business due to an unusual reduction in MSO [multi-system operator] capital expenditure (CapEx) and delayed revenue contribution from new product, tunable XFP, due to production ramp-up challenges," commented CEO Hong Hou. "The engineering team was able to fully understand the root causes for the low yield and implemented corrective actions. We expect yield and throughput for the September quarter will demonstrate a marked improvement and reach a desirable yield and throughput level by the December quarter. At that level, we expect positive contribution margins from this product line," he adds.
"We expect our gross margins in the Fiber Optics segment to improve in future quarters as we complete the ramp up of our new product line and our contract manufacturer and our Fiber Optics revenues increase," says chief financial officer Mark Weinswig. "We continue to believe that this business' target gross margin is at 30%."
Operating expenses were $11.7m, up on $10.9m last quarter (due mainly to R&D expenses rising from $4.1m to $4.7m). Going forward, operating expenses should be about $11.5m per quarter.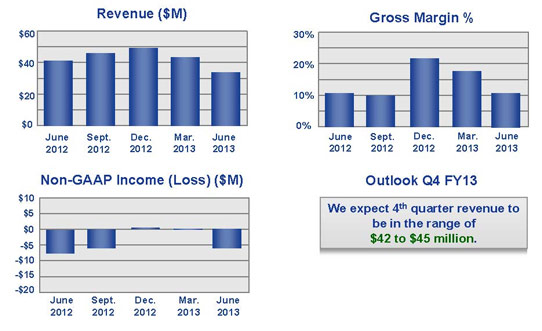 On a non-GAAP basis, net loss was $5.9m ($0.22 per share), an improvement from $7.4m ($0.31 per share) a year ago but down from just $33,000 (breakeven on a per-share basis) last quarter. Depreciation was $1.7m and CapEx was up to $1.6m. During the quarter, cash and cash equivalents and restricted cash balance rose from $6.2m to $6.6m.
Emcore exiting Suncore JV
This excludes $4.8m in proceeds from the sale (agreed in June) of Emcore's 40% equity stake in its China-based Suncore terrestrial concentrated photovoltaic (CPV) component- and system-making joint venture to partner San'an Optoelectronics Co Ltd in Xiamen, China. Closing is subject to customary conditions, including Chinese regulatory approvals. Payment in exchange for the equity transfer is expected to occur in fiscal Q4.
"Due to the dramatic change in the market dynamics and the competitive landscape of solar power industry, the joint venture needed to expand its business scope into project development and, in some cases, even as a project owner operator. This business direction is beyond the current and planned scope of Emcore's business," says Hou. "We will continue to be the primary supplier to Suncore for concentrated solar cells. However, Emcore now has minimal exposure to the risks of the solar power market," he adds.
Cost reduction
"In July, in order to continue to drive our breakeven revenue level down further, we implemented a headcount reduction and cost-reduction effort," notes Weinswig. Hou adds that the latter includes "discretionary spending reduction in our broadband business in addition to other concerted efforts to focus on revenue growth and process improvement on new product introductions in our telecom component business".
In addition, after Emcore's CapEx has been higher than normal due to ramping up tunable XFP production, in future it will be closer to the normal $1-1.25m per quarter.
"We now have a sustainable cost structure that will return us to profitability in the near future," believes Hou. The goal is to reduce the breakeven quarterly revenue run rate from $48-50m currently to $46-48m.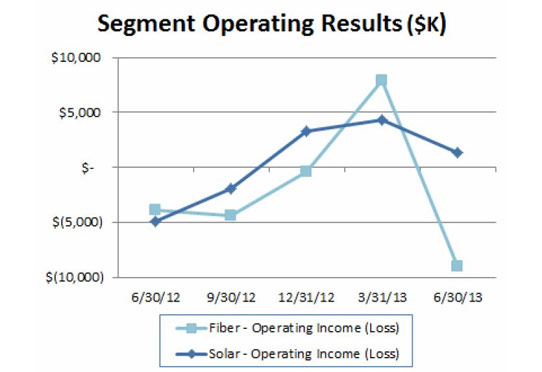 Outlook
"The Space Photovoltaics division still generated more than $1.3m net profit in the June quarter, indicating that this business has an effective cost structure and continues to be a positive capital-generating entity," says Hou. During the quarter, the division won more than 10 separate contracts (worth more than $35m) from around the globe. Order backlog for Space Photovoltaics rose by 59% from $36.5m to a record $58.1m, due mainly to large international orders. "With the recent bookings in Q3 and expected bookings in our Q4, our outlook for the next four quarters for this division looks very solid," Hou comments.
Revenue for CATV broadband business is expected to show a marked improvement. "Beginning in June, our cable TV broadband customers stated that their inventory has been reduced to a reasonable level due to a demand uptick from their customers," says Hou. "Compared to the March quarter, their June quarter CapEx spending increased over 20% in the infrastructure upgrade category, which is most related to our business," he adds. "As a result, the booking activity from our customers in the broadband business started to show a significant improvement. The largest MSO in the US reported a plan of about 10% more CapEx spending for the second half of the year than the first half. Therefore, we are optimistic about the rebound of the cable TV demand for the September quarter and this December quarter."
With improvement expected from both the Space Photovoltaics and Fiber Optics segments, for fiscal fourth-quarter 2013 (to end-September) Emcore expects revenue to be boosted to $42-45m, nearing Emcore's new (reduced) revenue breakeven level of $46-48m.
"We feel that we are coming out of our trough with significantly improved revenue outlook, improved engineering yield and reduced cost base," Hou concludes. "Our focus this quarter is on completing multiple new product line and new product introductions for our cable TV business and ramping up the revenue contribution from the tunable XFP product line," he adds. "We expect a strong September quarter and have an even more optimistic outlook for the December quarter.
Emcore reports below-guidance quarterly revenue of $42.3m, but breaks even
Emcore's increased solar shipments drive return to profit
Emcore reports revenue of $47.5m, down 9% year-on-year but up 16% quarter-to-quarter
Emcore reports higher-than-expected quarterly growth of 9%, as Fiber Optics revenue rises a further 18%
Emcore reports quarterly Fiber Optics revenue up 20% sequentially
Tags: Emcore
Visit: www.emcore.com
Author: Matthew Peach, Contributing Editor