8 August 2013
MOCVD precursor demand for LEDs to more than double to 69 tons over 2012-2016
Global demand for precursor material used in manufacturing light-emitting diodes (LEDs) will more than double from 2012 to 2016 as the market for LED lighting booms, according to a new report 'Precursor for LED MOCVD-Market and Industry Analysis' from Displaybank (now part of market research firm IHS).
The market for precursors used in metal-organic chemical vapor deposition (MOCVD) for LED manufacturing will more than double, rising by 114% from 32 tons in 2012 to 69 tons in 2016.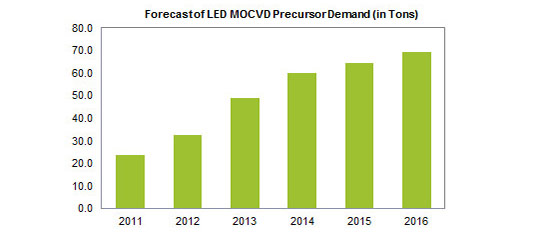 "The boom in the precursor market reflects the rising operating rate of MOCVD as the LED lighting market grows," says HIS' senior LED analyst Richard Son.
Precursors are core materials that ensures optimal light efficiency for each epitaxial layer in the key MOCVD process for manufacturing LED chips. Of the major precursors, which include trimethylgallium (TMGa), trimethylindium (TMIn), trimethyl aluminum (TMA), triethylgallium (TEGa) and C2Mg2, TMGa is the most widely used and commands about 94% of total demand.
Global shipments of MOCVD equipment are rising, with shipments expected to climb by 17% in 2013. The largest buyers of MOCVD equipment - South Korea, Taiwan and China - account for about 80% of global demand for precursors. China, which is generating the highest growth in MOCVD equipment installation among the three countries, is expected to make up 45% of global demand for precursors in 2016.
In the nascent stage of the LED market, Dow Chemical Co was the unrivaled leader in the precursor market. However, with the recent growth in precursor demand, new players have been investing in R&D and manufacturing facilities while aggressively breaking into the market with low prices for similar-quality product, says the report. Such developments will intensify competition further among precursor makers, it is reckoned.
Tags: MOCVD LEDs MO precursors TMGa
Visit: www.displaysearch.com